Young punk chef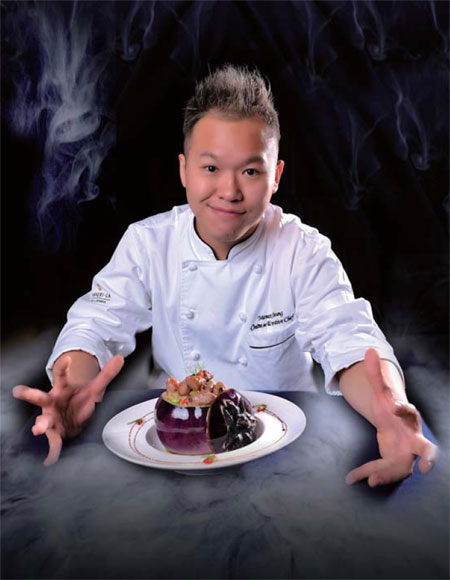 Menex Cheung ranks among the very few young executive chefs in five-star hotels. Photos Provided To China Daily
His boss admits he took a chance employing this offbeat culinary genius, but quickly adds that the gamble paid off handsomely. Wang Kaihao talks to a street-smart Hong Kong chef in Hohhot who admits he draws inspiration from Japanese manga.
In the intensely competitive world of hotel food and beverage sales, most general managers must be on their toes and on a constant lookout for talent in the kitchen. Sometimes, these come in unexpected packages.
At the Shangri-La Hohhot in the Inner Mongolia autonomous region, one hotel boss took a huge risk, crossed his fingers and waited to see what the results would be. He scored.
In employing a very young executive chef for his Chinese kitchen, Victor Ng was running very close to the precipice, but his instincts paid off.
Menex Cheung had comparatively little hotel experience, having worked mostly in private clubs. But the plus factor was that he had a better start than most other young chefs, having been apprenticed at the prestigious Hong Kong Jockey Club, where some of the world's richest choose to dine.
Here, he had the benefit of being mentored by some exceptional chefs, who later also influenced his career path. It was through this channel too that his current boss got to know of him.
"Not long after he joined us at the Shangri-La Hohhot, he dyed his hair blonde. That first day, he mostly hid in his office so I wouldn't see him," Ng says, laughing. Fortunately for Cheung, Ng was more concerned about his cooking style than his personal style.
As an executive chef in a five-star hotel, the young man strays far from the standard stereotype of the kitchen boss. His impish good looks reflect a free spirit, which is in turn mirrored in his surprising creations, like his signature Crackling Rice in Seafood Soup.
It is a theatrical dish that is also very delicious.
As the waiter slowly pours freshly fried rice crisps into the hot red broth, diners are mesmerized by the spectacle, which literally snaps, crackles and pops with color and sound. The huge bowl usually returns empty to the kitchen, testimony to the taste of the dish.