Beverage tycoon Zong Qinghou has announced a five-year, 5 billion yuan ($820 million) plan to diversify his beverage empire by collaborating with liquor producers in the hometown of the country's most famous liquor brand, Moutai.
Zong, who got his start as a frozen snack vendor in Hangzhou, has built an empire based on bottled water, soda and other nonalcoholic beverages. Now, his Hangzhou Wahaha Group Co Ltd will work with Jinjiang Liquor Co Ltd in Moutai county, Guizhou province.
The two companies will integrate local small and medium-sized distillers to develop a new brand.
His move into the liquor business comes as the sector struggles with sluggish sales amid a government crackdown on corruption and lavish consumption using public funds.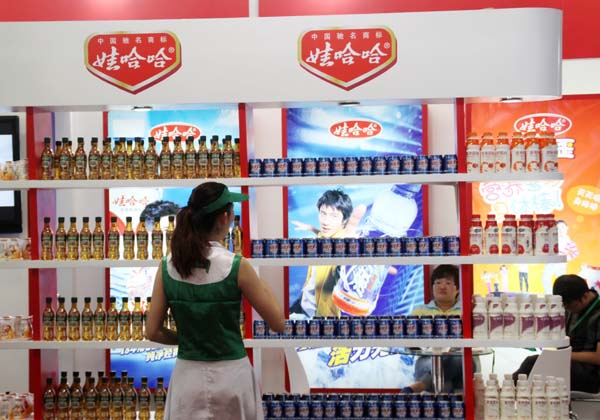 Hangzhou Wahaha Group products on display at a food expo in Beijing in June.[Photo/China Daily] 
In the first three quarters, 13 listed liquor companies' revenue and net profits declined for the first time in nine years, according to Shanghai-based Wind Information Co Ltd.
Zhao Ping, deputy director of the department of consumer economics at the Chinese Academy of International Trade and Economic Cooperation, which is under the Ministry of Commerce, said that excess production and high prices were behind the sliding performance.
But Zong, now chairman of Wahaha, plans to follow a classic strategy of "buy low, sell high". He expects his opportunity to sell will come in about five years, when the industry revives.
"The liquor business has been greatly affected by policies recently," he said.
"But the culture of drinking liquor is deeply rooted in China, and consumers' spending on liquor won't decline."