Reaching across asia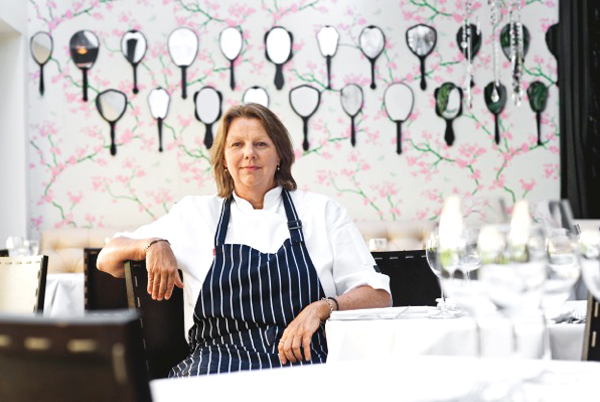 Kate Fay's brought her blending of Southeast Asian cuisines to a guest-chef stint at Temple Restaurant Beijing. Provided to China Daily
Guest chef shares NZ ingredients and cross-continental flavors with Beijing diners. Tracie Barrett joins the tasting.
Kate Fay may never have visited Beijing before, but the acclaimed New Zealand chef definitely plans to return. Here for less than a week to take part in a series of New Zealand-themed events and tastings organized by Temple Restaurant Beijing in conjunction with the Marianas Group and New Zealand sponsors, Fay said she visits Southeast Asia regularly but China "was never fully on my wish list, but it is now".
Having cooked at some of Auckland's top restaurants. Fay is now ensconced at firm favorite Cibo, where she started as head chef 14 years ago and has been a part-owner for the past 10 years.
While in Beijing, Fay and Cibo's junior sous-chef, Sam Cottrell-Davies, have done "a little bit of sight-seeing, a little bit of eating" both in restaurants and from street vendors, but have mainly been prepping for the six-course degustation presented to about 120 guests last weekend.
She was surprised and impressed by how cosmopolitan the city is and said she will definitely plan a longer, less hectic visit to sample more of China's cuisine.
The country will join her usual travel destinations of Indonesia, Malaysia, Myanmar, Thailand, Laos, Cambodia and Vietnam, where she seeks inspiration and ideas to develop for the menu at Cibo.
"Whenever I travel, it's always to look at food and eat food and develop food from that," she said.
"I always, at least once a year, go to Southeast Asia and that usually inspires us."
Fay has won many awards in her home country - she's a three-time ambassador for NZ Beef and Lamb - and is renowned for using those Southeast Asian influences in a style many call fusion but she prefers to describe as Pan-Asian.
"We take something and strip the whole recipe apart and make it suit us. It's not traditional but it's not too far off some of the flavors," she said.
Born and bred in Auckland, the country's capital, Fay had a late start in her trade. Like many New Zealanders her age (Fay is 54), she grew up in a family that grew vegetables and kept chickens at home and her mother always baked. Her own career started as an office worker, however. She then headed overseas, first to London, then to Israel, where she cooked in a kibbutz kitchen for eight months. That was when she decided what she wanted to do as her profession.
"I went back to London, worked in restaurants, then came home to New Zealand and did my training, and started from there," she said. "I found my passion."
When talking about her work, it is noticeable Fay uses the pronoun "we" rather than "I".
"We're not casual," she said, when asked about her leadership style in the kitchen, "but my chefs don't call me 'Chef', they call me Kate.
"I think that's why we are so successful at Cibo. We have an amazing connection between the kitchen and the floor. The team has to work together, otherwise the whole thing falls to bits. You cannot be a top chef without an amazing team behind you."
Fay and Cottrell-Davies were joined in the TBR kitchen by Connie Aldao-Worker, the wife of the New Zealand ambassador to China and herself a professional chef. Alexander Worker, the director of Marianas Group, which organized the event with TRB and imports the featured products, is the ambassador's son.
The "volunteer kitchen hand", as Aldao-Worker described herself, speaks some Chinese and manages the New Zealand embassy residence kitchen for diplomatic events. So she was the perfect go-between, translating the New Zealander chef's requests to the Chinese-speaking staff at they worked at TRB.
Fay also shared her recipes and cooking methods with the chefs at TRB, one reason general manager Ignace Lecleir likes to invite international guest chefs to the Beijing restaurant regularly. Fay is the third such of five scheduled this year, and some may return before the year is out because of the "wonderful feedback received", Lecleir says.
"We speak to the chef and look at it as a two-way opportunity for the chefs to take a platform in our restaurant and for us to see what they are doing. Sometimes they find local ingredients that we may have overlooked. It keeps a restaurant sharp," Lecleir says.
Fay's menu last weekend featured Coromandel Pacific oysters, grass-fed venison, salmon, white clover honey and lamb, with a fresh take on the country's classic pavlova as dessert, all matched with New Zealand wines. Well-trained and attentive staff delivered each dish to enthusiastic diners at constantly full tables, with Fay also sending out a series of tasty amouse-bouche between some courses. The sommelier gave impressive descriptions of what gave each wine its distinctive characteristics and why it was chosen to complement the dish, switching from his native Chinese to flawless English with ease.
Alexander Worker of Marianas Group said the company hopes to be involved in more such events in the future.
"What I'd love to do in time is to build occasions around Beijing where it is an opportunity to taste great food you might not get elsewhere," he said.