Foreign chains responding to rising demand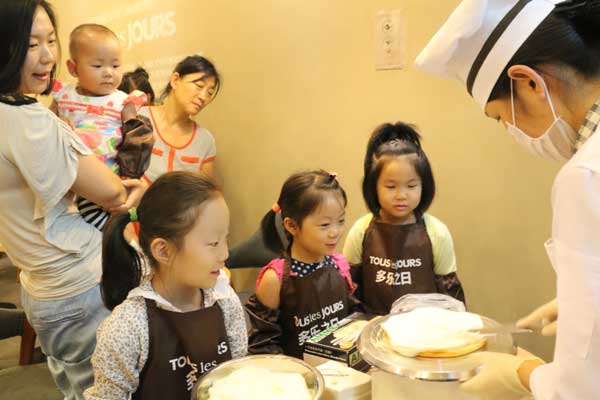 Children watch as a baker puts the icing on a cake at a Tous les Jours store in Beijing. Provided to China Daily
Light green external paint, large, wide windows and Western-style decorations give the air of a European store to bakeries seen throughout much of China. But they are part of high- and medium-end chain Tous les Jours, from South Korea.
The number of such bakeries in China is expected to grow to more than 1,600 by 2017, TLJ BusinessDepartment General Manager Park Kyung Chul said. The expansion is part of a plan to grab a larger market share amid fierce competition among bakeries and dessert chains.
A brand of CJ Foodville Corp - a Korean group that has 14 brands in the catering industry - Tour les Jours now operates more than 1,600 stores around the world. Having opened its first Beijing store in 2005, the chain has since expanded to seven cities with 34 shops, with most in Beijing and Shanghai. Second- and third-tier cities such as Zhengzhou and Chengdu also have stores from the chain. Tous les Jours has focused on what Chinese consumers want, most importantly in taste, health and nutrition, rather than regional styles, Park said.
The company has developed products specifically for Chinese consumers, such as egg tarts and bread covered with fried pork flakes. Many of the ingredients, such as cheese, cream and chocolate, are imported from Europe to ensure the products' quality and taste.