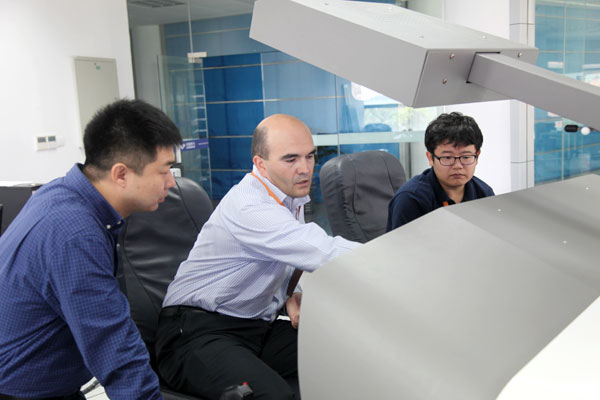 Cyrille Breard at a laboratory of the Shanghai Aircraft Design and Research Institute. Provided to China Daily
My China Dream | Cyrille Breard
Cyrille Breard came to a career crossroad in early 2010. He had just completed his MBA in technology management from the University of Washington in Seattle, and had to choose between being an employee or an entrepreneur.
Expecting to be a part of the development of China's first commercial giant aircraft, he decided on the former.
With the help of his Chinese wife, Chen Xuehong, Breard sent his resume to Commercial Aircraft Corporation of China Ltd.
The 44-year-old American engineer of French descent has since become the principal noise engineering expert of Comac's Shanghai Aircraft Design and Research Institute, China's leading aircraft design institute responsible for the country's commercial giant aircraft research and development.
Last July, Breard and his team went to Holland and performed the nation's first noise test on the scale model of the C919 large passenger aircraft, which was regarded as an important step for the aircraft's future to compete in the international market.
The C919 will be the largest commercial airliner designed and built in China and its first flight is expected to take place in 2014.
Breard and his co-workers are now eagerly planning the first flight test for aircraft noise in China. "For the certification process, the noise of the aircraft has to be controlled within certain standards," Breard explains.
Lower noise uncertainty will not only guarantee a safe and environmental friendly flight, but also provide passengers a quieter journey. Furthermore, too much noise will shorten an aircraft's life, Breard says.
A lot of international airports also have strict restrictions on aircraft noise during takeoff and landing.
"If our aircrafts cannot reach these standards, it will be impossible for Comac to sell them to airlines that operate flights to these airports," says Breard, who spent 10 years with Boeing.
He admits that working in a completely new environment brings opportunities and challenges.
For example, he says, at Boeing, every process is already well established. But in Comac, everything is new. The employees have to set up the processes and get approval from different departments to make things happen.