A taste of Tibetan food in Beijing
China is a nation famous for cuisines, and all kinds of fine food from various regions and ethnic groups of the country actually gather at its capital Beijing, among which is the flavored food of Tibetan ethnic group that becomes known better and better.
Makye Ame is one of the most famous Tibetan restaurants, which can be considered as a representative of Tibetan food in a sense. By a walk into the door, visitors seem to have left the modern metropolis and could enjoy leisure time in Tibet with both the exotic cuisine and culture.
The restaurant is full of Tibetan ambiance. There are Tibetan styled furniture and adornments in the hall with Thangka paintings hung on the wall and unique lamps throwing warm lights. Handsome waiters and pretty waitresses wearing Tibetan costumes would speak Tibetans with each other and Mandarin and some foreign languages with the guests. The most fabulous should be the folk singing and dancing performances by Tibetan artists, which always attract many customers apart from the Tibetan food.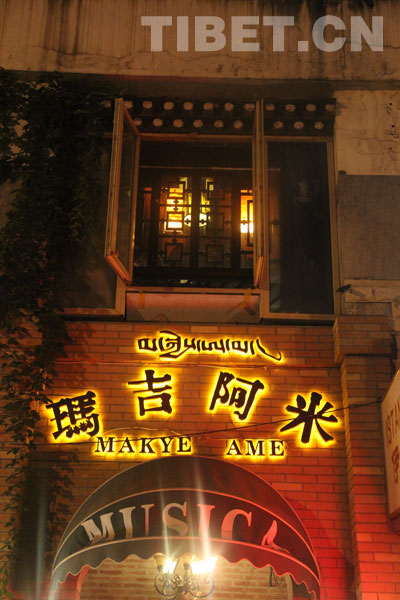 Photo shows the entrance of Makye Ame Tibetan Restaurant in Beijing, which is well combined with the night of central Beijing. [Photo/ China Tibet Online]