Cafe with a mission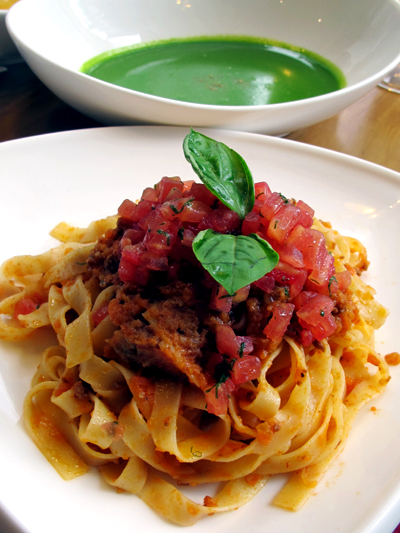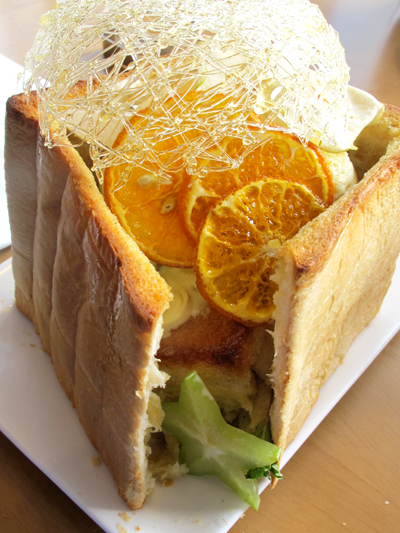 Honey Lavender Toast is a treasure box of flavor and pastas. Photos by Mike Peters
You could be forgiven for wondering what Matteo Ricci might make of his namesake cafe. It's hip and Italianate, which might be appreciated by the 17th century Jesuit missionary who was described by one of the cafe executives at the November 2011 opening as, "a total bad ass".
"He loved China, was an erudite linguist, and was so respected that he was granted an advisory position in the imperial court," Ryan Wedeking, marketing vice-president, continued.
Well. The four principals of Ricci Cafe, three of whom met when they were students at the Beijing Center in 2004, also believe that Ricci loved breakfast.
One thing that keeps regulars coming back to the Wu-daokou eatery is the Lavender Honey Toast, a comfort-food construction that is part art, part architecture and so popular it's served all day. It's a cube of what you may have once thought of as "French toast".
Packed with layers of cream and more fresh cinnamon toast, it glistens with candied fruits that spill out like toy-box surprises when you cut into it. The whole thing is topped with a domelike crown of spun caramel, a sweet spider web that makes the whole package almost too pretty to eat.
Almost.
I'm babbling about the toast because that's the cafe's most famous offering. But there is more to like, not least the airy, open second-floor ambience of the Tsinghua University Science Park (TusPark) space - a quiet and pleasant foil to the hubbub of the Wudaokou scene beyond.
Founder Greg Savarese is a serial coffee entrepreneur in Beijing, and his single-mindedness in this department means great selections in this department - from unfussy but potent brews to the East-meets-West fantasy called the "Sichuan mocha".
We would call this the real bad ass in the room if it wasn't as pretty as the toast. It's a gorgeous spice girl in a tall glass, with a bright red pepper nested in the whipped cream top - a signal that this baby isn't just sweetness and light.
Precedent for this combination goes back a few thousand years, when the Mayans of Mexico ground cocoa and chilies together to make a beverage they offered to the gods (before drinking themselves). Now as then, it's fusion to die for.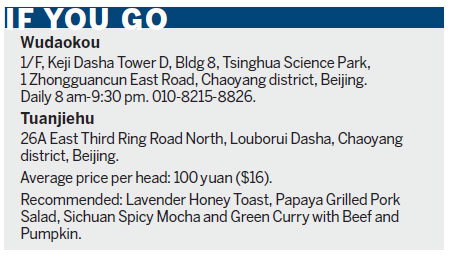 More ordinary, but nicely executed, are soups, sandwiches, pastas and an array of mains such as a savory green beef curry.
The choice between cream of pumpkin and cream of pak choy seemed like a no brainer - surely the latter would taste like baby food, right? But we were tempted by the rich green color, and found the pak choy pleasant and intriguing, though not as voluptuous as the pumpkin.
After the splendor of the Lavender Honey Toast, it's no surprise that sweets are a specialty here. You can build a continental breakfast from fresh-baked pastries, or finish a meal with an appealing tart, cream puff or cake.
The Sichuan sand tart, innocent-looking with a dusting of powdered sugar, is not quite as successful as the peppery mocha - and ordering both was just too much of a good thing.
But it's another intriguing example of how Savarese's team likes to take flavors from all over China and repackage them in "awe-inspiring formats". Professing "a passion for great coffee and the awesomely weird cafe scenes of Hong Kong and Singapore", they've developed a winning formula that they will now try to spin off in a second location in the Tuanjiehu area.
The new outlet's soft opening is now in progress with a limited menu - about 50 percent new, Savarese says - and will roll out in early August. No doubt with missionary zeal.