Greyhound Cafe: Food that dances on the tongue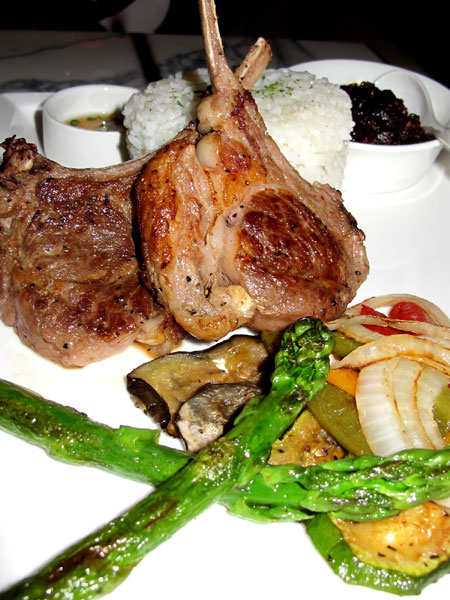 Tamarind lamb chops is one entree selection. [Photo by Mike Peters/China Daily]
It would be easy to dismiss Greyhound Cafe as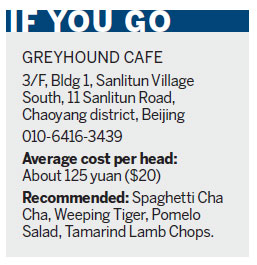 amusing but mildly pretentious, a place where beautiful people come to nibble at dishes that are just as glamorous.
While most things can be a little precious - including the bill at the end - a meal there is such a treat that it's easy to forgive the rather self-conscious air of this new arrival in Beijing's Sanlitun Village.
The decor is snappy black-and-white, the high ceilings are unfinished factory chic, and the menu is smart and well executed.
I was immediately wooed by a song from home. Not Bangkok, where this eatery started, but Houston, where I grew up and first learned the delights of Thai food guided by a tiny charmer of a woman named Renu.
Her eponymous restaurant served up a specialty called Tiger Cries, mega-garlicky strips of beef grilled medium rare and topped with a fiery drizzle of green chilies that would make a big cat weepy.
The Greyhound version is less spicy and more savory - rich with basil as well as chilies - and so good a tiger would weep for joy. Whatever, we cleaned our plates in record time, spearing the slivers of onion garnish to mop up the leftover sauce.
One of the most popular items is Spaghetti Cha Cha Cha, and for good reason.
It's an example of the restaurant's quirky blend of classic Thai and Italian fusion.
"Fusion" is sometimes a short way of saying "confusion", but the chefs here never stumble in that direction. The spaghetti with the danceable name is a satisfying melange of seafood, basil and green peppercorns, little devils that look like clumps of capers.
Pad Thai is served in at least three variations: shrimp, mushroom and fusilli. All were beautifully presented examples of the genre, and delicious if you don't choke on the 98-yuan price tag for what is street food in Bangkok.
Fresh spring rolls, Vietnamese style, are another tasty basic served with fresh ingredients and Greyhound flair.
We got greedy on the entree selection, going for lamb chops just to see how the kitchen would Thai them up.
We got another pretty platter, with two nicely grilled chops propped up like crossed sabers, served with two sauces: A thin, sweet and spicy one that was good but predictable, and a thick, gloppy tamarind paste that was utterly sublime.
We also ordered the pomelo salad from the list of starters, but our mains came so quickly on its heels that we saved it until the end.
The fruit was shredded and tossed with nuts, ground shrimp and flakes of dried fish - and tossed with a sweet lemon sauce that dramatized the contrast of the salty elements. It would have been a fine finish to the meal, no dessert necessary, but who orders dessert because it's necessary?
We took a look at the list of sweet stuff, opting to share a parfait-style composition of banana, toasted coconut and ice cream - and a Thai iced coffee. The most popular dessert seems to be a mango crepe, which we ogled when it came to a neighboring table and that we'll have to try next time.
A good selection of beverages includes some non-alcoholic specialties and a quirky tea made with butterfly pea and stevia.
The steaming brew that's poured into your teacup is bright blue - and adding sweetener makes the tea turn purple. Like much about Greyhound Cafe, it's almost too cute - but delicious too, and you probably won't be able to resist ordering it again if you come back with a guest.
michaelpeters@chinadaily.com.cn