The Chef's memoirs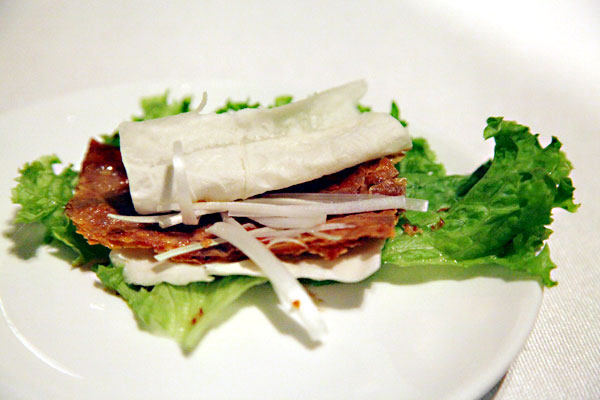 Kaosufang: Crisp squares of bean curd are sandwiched between wafer-thin crepes and garnished with spring onions and sweet bean sauce. [Photo by Fan Zhen / China Daily]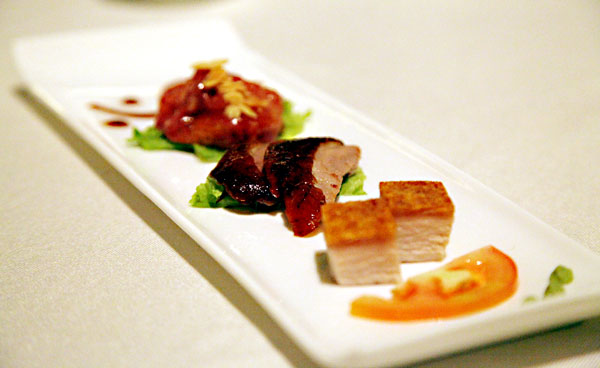 Appetizer: Tiny cubes of roast pork, slices of roast duck and one perfect prawn indicate the pleasures that are to come. [Photo by Fan Zhen / China Daily]
He's a chef before all else, but he has distilled the experiences of a lifetime into essays that expose the lesser-known facets of the culinary world. Pauline D Loh sits down with him.
Huang Ching-biao has many stories to tell, and he isn't shy about it. He has already published a few books in which he shares his adventures in the kitchen, his encounters with diners, both good and bad, and the hidden politics that lurk in the seemingly calm world of chefs and cooks.
He is more than qualified to talk about all these.
As a young man, Huang was apprenticed in the kitchen of the official residence of the Kuomintang leaders in Taipei.
He learned his craft from a master chef of Hunan cuisine, and was the youngest and last disciple. Later, when the political climate was more conducive, it was Huang who brought his old master back to Hunan province to look for his family after decades of estrangement.
It was in Singapore that Huang made his name and his home. And it is also in Singapore that his natural leadership abilities have manifested, making him the chairman of several culinary associations, and consultant to numerous restaurant groups all over Asia, including his native Taiwan, and the Chinese mainland.
Huang is a straight-talking man and his praises and criticism have become legendary in Chinese catering circles. But there is also a lot of respect.
As a teenager, I tasted my first Hunan dishes at the restaurant where Huang was head chef. It was a meal I never forgot. There was pigeon consomme served in little bamboo tubes, every mouthful saturated with the gamey essence of the bird.
There was another soup - a tureen lined with lettuce and finely sliced carp that was brought to table before boiling hot stock was poured to instantly cook the fish. It was very theatrical and absolutely delicious.
Then there was the piece de resistance.
Crisp pieces of deep-fried bean curd skin served sandwiched between wheat-flour crepes after being dipped in a sweet bean sauce. Slivers of spring onions were the only garnish and it was just like Peking duck but without the fat.
It was simplicity itself, really, but it was also a tactile morsel that played with your taste buds and made music in your mouth.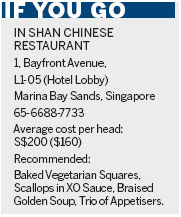 "The secret is in the frying of the bean curd. You have to have just the right temperature so all the moisture is cooked out. And you have to cut it up when it's cooling but not too cool, or the bean curd skin will simply shatter," says Huang of the dish, which is called kaosufang, or baked vegetarian squares.
The name belies the sophistication of the dish, which we had the pleasure of eating again at Huang's latest restaurant, the Jin Shan in the very posh Marina Bay Sands integrated resort in Singapore.
This is Huang's "retirement project", he tells us. After a lifetime in the kitchen, he is ready to take it easy, but it is clear he intends to leave with drums rolling.
Jin Shan at Marina Bay Sands has some hallowed company and chefs like Wolfgang Puck, Tetsuya Wakuda, Mario Batali and Daniel Boulud are neighbors, just to name a few.
Huang is definitely holding his own, and he tells us that his nightly takings hover around five figures, and that's in Singapore dollars.
Tycoons from all over the world frequent Jin Shan, and he says Chinese comedian and media mogul Zhao Benshan is a frequent visitor, and his entourage normally takes up three tables, with each ordering a couple of bottles of Moutai spirits, at about S$10,000 ($7,955) a pop.
Huang also counts military celebrities among his regular clients, although he modestly refuses to reveal names, only to say their demands are exacting but they have all become friends.
These are personalities who demand the best service and the best dishes, and they come to Huang because he knows what they want. And delivers.
One of his signature dishes is drawn deep from his past, from his days in Taipei under the Hunan master chef. It is a simple bowl of golden broth which goes by the name of huangmentang, or yellow braised soup.
One sip, and you know it is no ordinary broth. It is so thick and rich that it almost glues your lips together and the golden hue is fresh and tempting, unlike most slow-cooked soups that take on a grayish tinge from being too long on the fire.
"We cook the soup in several stages, slowly allowing it to thicken so that the natural collagens come out. You have to have a chef standing over the pot stirring all the time," Huang says. For six hours.
And, in a way, the soup represents Huang himself, a distillation of all that life can offer, a compilation of anecdotes that he has so painstakingly collected in his books.