An evening of syrupy surprises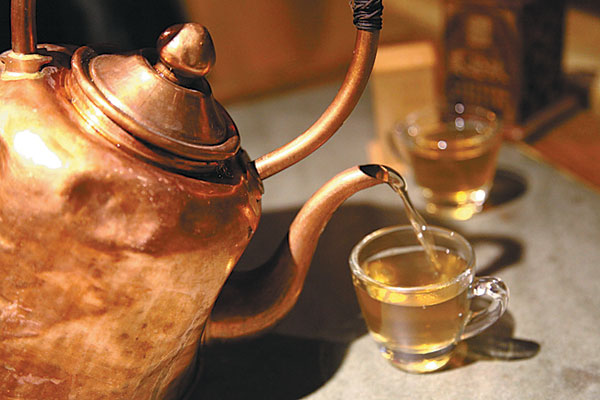 Litang is served in a teapot and drunk from a glass. Photo by Samantha Hawker provided to China Daily
Homer, the greatest of ancient Greek poets, once described the pear as the "gift of the gods". Crisp, juicy and packed with nutrients, in China the pear is oft served as litang - the traditional pear soup served in dry, cold winters.
Warm and compellingly delicious, it is served in a teapot and drunk from a glass.
The best place to try litang in Beijing is at the restaurant Xiaodiao Litang, which translates as "small teapot of pear soup". It is tucked away in a small alley but is instantly recognizable by the aquarium in the windowsill.
Early one Friday night the fish were ogling the line outside the door, a clear indication that it is a neighborhood favorite and a sure sign of good service, excellent food, and affordable prices.

As we waited for our table we admired the copper tea pots that the litang is served from. Warped and dappled by time, there was one on nearly every table. They were specially designed by the restaurant to keep the smooth, syrupy soup warm and heated.
The dining room is big enough so that it does not feel over-crowded despite being filled, and wooden beams that separate the space into sections reflecting the symmetry of Beijing's streets.
The decor is simple and understated while the red lampshades give the interior a nice warm glow. It was refreshingly ordered and well managed, with a coziness that left you feeling like you were in safe hands.
We ordered eight dishes from the picture menu. Be prepared, the desserts and main courses will arrive at the same time. But take this as a sign that you are meant to eat them in tandem - the combination of flavors and textures melding together with no conflict.
The first dish to arrive was chaud-froid of pork rinds and sharp with garlic. It was rubbery without being tough and went well with the succulent braised hairtail that followed soon after.
Watch out for the fine bones in the hairtail. This is not one of those establishments that will remove them for you. But navigating the bones is well worth the challenge.