Beijing soup spot lives up to its name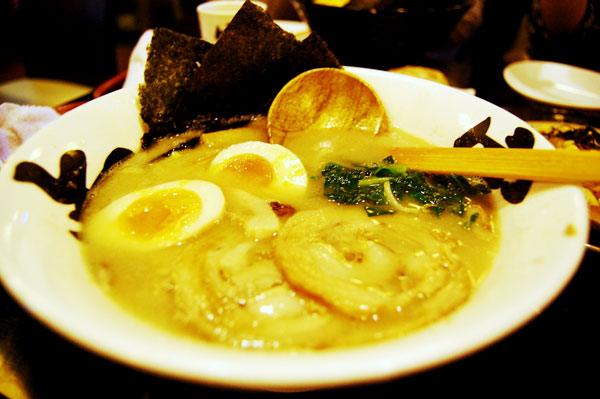 Roasted pork fillet noodle soy soup, complete with eggs giving you the eye. [Photo by C.J. Henderson/China Daily]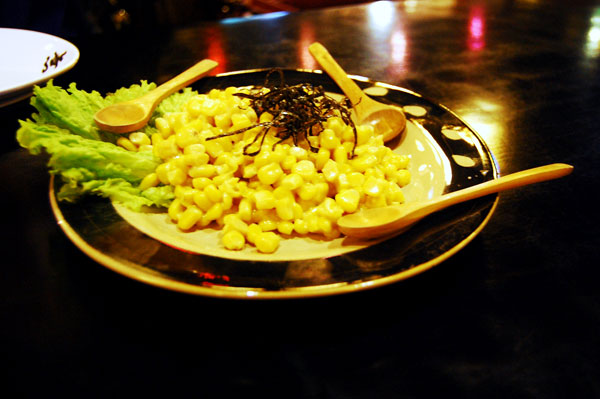 Fried corn with cheese is a special at Invincible Ramen. [Photo by Erin Johnson/For China Daily] 
The special roasted pork fillet soy soup is the king here: A bowl of golden noodles swimming in a steaming hot, fragrant pork broth, topped with pork, bamboo shoots, spinach, seaweed and the twin eyes of a halved soft-boiled egg. This is why you go to Invincible Ramen: for a ramen that can't be beat.
The pork fillet was falling apart in the soup, perfectly tender, juicy and fatty. The spinach and bamboo shoots added just the right amount of vegetable goodness and color. The egg was deliciously gooey and salty. The noodles were not too soft and bloated, and were slurped up easily.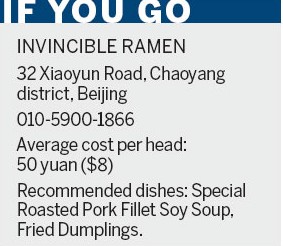 But any ramen enthusiast knows its all about the broth. Oh, the broth! Nowhere have I sipped on such a divine soup stock. Think, savory, almost creamy in consistency, with such a dazzling meaty flavor that I could drink it in a mug for breakfast, lunch and dinner.
This same broth can be found in the less meaty special vegetable soup and the basic noodle soy soup (they both come with a few slivers of the roasted pork). A bowl of this stuff alone is worth the trip to Sanyuanqiao on a blustery Beijing night, but we branched out with a few extras.
If you're looking for a less rich soup, go for one of the silver varieties - the salt soup options. You get the same toppings, but with a lighter broth. It is tasty, but let's get real: Golden noodles are where it's really at.
If the most amazing broth in Beijing isn't enough to get you down there, they also have very nice staff, cute paper lantern interiors, and a hefty menu of sides to round out the dining experience.
Fried dumplings are classic gyoza style, crispy on the bottom and juicy inside. These come stuffed with pork mince and chives. A good selection of sauces lets you create your own dipping mixture, but these suckers are great even on their own.
If you're like me and have daydreams about eating avocados, get into the avocado salad for a bit of freshness on the side: Full of fresh avocado, mixed greens, tomatoes, cucumbers, it's smothered in fish roe and mayonnaise dressing.
The 'special-made fried corn with cheese' was a simple, tasty side dish that brought very homey memories about creamed corn to mind.
Boiled edamame beans are also a great side to snack on while you wait for the main event - ramen, obviously.
If you're in the market for an affordable bowl of great noodle soup, look no further than Invincible Ramen.
sundayed@chinadaily.com.cn