Chic & easy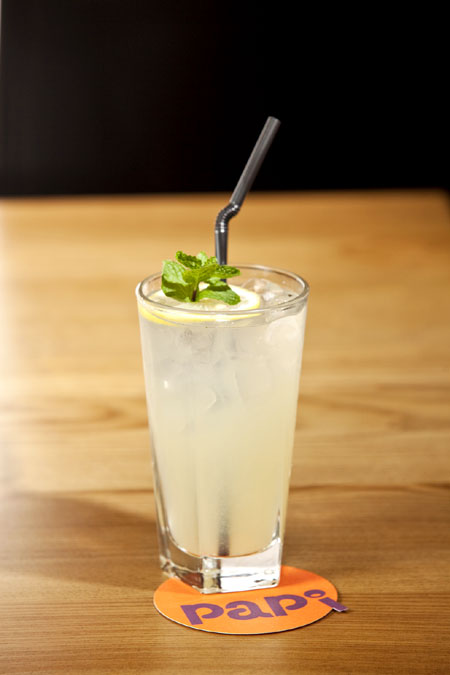 Homemade Italian lemonade brings back memories of warm summer days and fresh-cut grass. Photos Provided to China Daily
Papi dishes up authentic Italian fare in a smart and casual environment perfect for date night or family dinners. Rebecca Lo takes a taste of la dolce vita.
Small plates have become a trend in Hong Kong recently and it is easy to understand why: It is the same concept as dim sum, only for a later crowd. Sharing a casual meal with many different dishes to sample over a few glasses of wine is a fun way to spend an evening with friends or family. And for singles or couples who are watching their waistlines, the portions are perfect.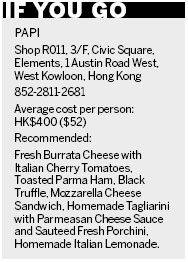 Jay To, Papi's assistant manager, explains that the concept came about after its owner, Hong Kong entrepreneur Benjamin Lung, established W52 in Central.
The mastermind behind Va Bene, Lung saw a need for a more laid-back outlet that offers Italian staples in a rustic environment.
The name Papi is an abbreviated portmanteau of pasta and pizza, two simple standards offered by the restaurant in abundance. W52's former chef Francesco Berardinelli consults on the menu, creating new plates to suit the bustling Civic Square mix of suits, tourists and neighborhood patrons.
I got there a little early, and was seated indoors near the bar where there's a good view of the action happening in the lively open kitchen.
Wooden trestle tables and white metal cafe chairs are set against black chalkboards with the daily specials hand- lettered in a rainbow of colors.
There is a good mix of large tables with wooden benches for groups of six to 10, intimate tables for those on date night, and high tables with barstools outdoors in the piazza for those wishing to dine under the stars.
Italian produce abounds, displayed along a feature wall of undulating horizontal wooden strips and from open shelves above the kitchen.
Jay To recommended the homemade Italian lemonade while I waited, and it didn't disappoint. I was reminded of a recent trip to Sorrento in southern Italy and the bright lemons that were everywhere there.
The tartness of my cloudy drink was refreshing with a hint of peppermint, and its icy coldness brought back memories of warm summer days and fresh-cut grass.
After being joined by a friend, we tackled the extensive and ever-evolving menu.
There were a number of new truffle dishes and we decided to try the toasted Parma ham, black truffle and mozzarella cheese sandwich.
Oozing mozzarella and savory Parma on crust-free, lightly toasted bread, the dainty tea-size triangles are a sunny Mediterranean variation on the classic ham-and-cheese sandwich. Dots of black truffle sauce for dipping served as a luxuriously earthy condiment.
We moved on to one of Papi's signature dishes: fresh burrata cheese with Italian cherry tomatoes.