Hokkaido, next door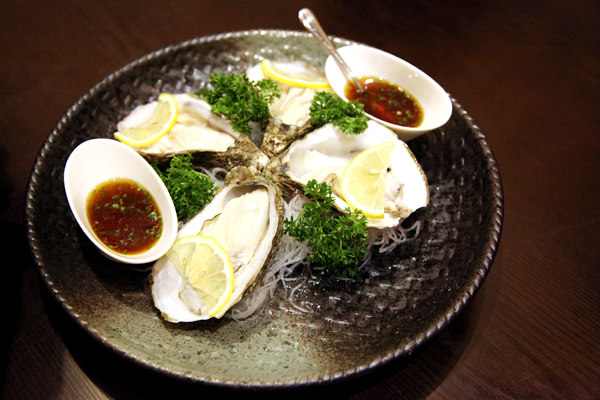 The fresh oysters taste bright and salty, with firm and clean flesh. A ponzu sauce helped them go down very easily. [Photo by Fan Zhen / China Daily]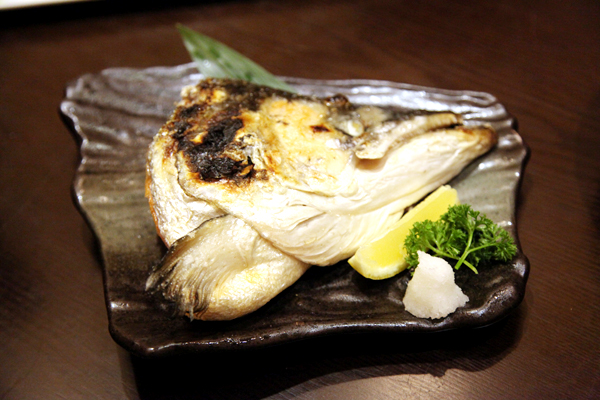 The grilled salmon head comes on a black ceramic platter. [Photo by Fan Zhen / China Daily]
One of the hottest dining spots among Beijing's young executives these days is an unassuming eatery tucked away in a side street off the Third Ring Road. Pauline D. Loh slurps up the soba and enjoys the sea urchin.
The chopped spring onions were bright green, fresh and cleanly cut. The sesame seeds were perfectly whole and still a little shiny from being just toasted. By their side, a fresh quail's egg sat, its top chopped off for the diner's convenience. The soba was cold, and neatly coiled into two piles on a bamboo platter.
I was mightily impressed by the knife work, the careful attention to details and the presentation. Cold soba is a simple dish that appears on almost every Japanese restaurant in Beijing, but this was quite the best I have tasted.
The warm and artistic ambience helped impress. Just outside our little cubicle, samples of the lady boss's calligraphy decorated the wall. Inside, two rows of simple hooks let us hang our winter jackets up, a thoughtful detail that made us more relaxed simply because we did not have to share space on our chairs with heavy coats.
As soon as we sat down and flipped through the menu, the seduction began. Almost every item made us pause and debate if we wanted to order. But just being four people, and not very heavy eaters at that, we had to settle for just a dozen or so dishes. Well, maybe we were hungry eaters.
For starters, we had the fresh sea-urchin-roe sashimi. It was also the most expensive dish of the meal, but the sea urchin was very fresh, with none of the dark veins that would taint the roe with a natural fishiness. We cleaned the bamboo platter in just a few minutes.
We also ordered fresh oysters, one each. The flesh was firm, clean and the oysters tasted bright and salty. A ponzu sauce helped them go down very easily.
Sometimes, the simplest dish is the best test for the chef, and at Hokkaido Restaurant Xunxian, he passed with flying colors. The cabbage salad is usually a side served with a tonkatsu cutlet set or maybe the oyako donburi chicken set, but here, it is proudly presented on its own, accompanied by a fragrant thick sauce which the waitress described as a cross between a sesame and a Thousand Island dressing.