Mixing it up at Zajia Lab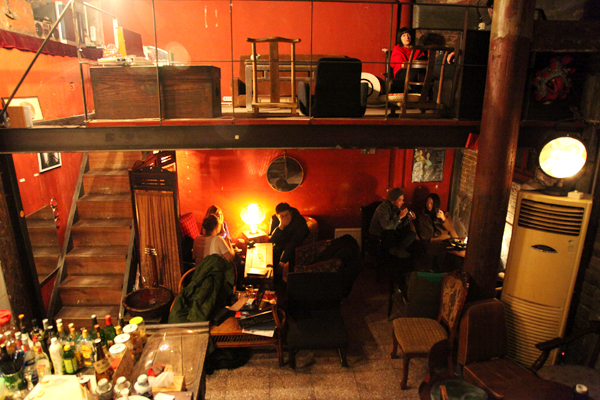 Zajia Lab is housed in a modified Taoist temple. [Photo by Fan Zhen/China Daily]
One night a documentary about atomic-bomb survivors. Another night, experimental music jam sessions sweep the rafters of the modified Taoist temple that houses Zajia Lab.
Part bar, part performance space, part experiment in eclectic furnishings, Zajia Lab is a place that will surprise and delight you - where no two chairs are alike, and neither are two nights in its ambience-oozing rooms.
The project-space/bar hybrid opened in 2011 as a collaboration between Sinologist Ambra Corinti and artist Rong Guangrong. Together they have curated a venue that appeals to the coffee-guzzling art crowd, whiskey-sipping hipsters, and culture buffs downing cocktails.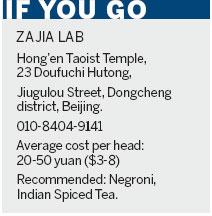 The cocktails themselves are well-made classics, reasonably priced, with flavors to suit a variety of tastes. The whiskey selection in particular displays an eye for detail, and at 40-50 yuan ($6-8) for a healthy two fingers, it's a great choice for the casual drinker.
For someone who prefers a drink that has more than one ingredient, the mojitos are delicious and fresh, and the Negroni cocktail has just the right mix of gin, vermouth and bitters - fragrant, slightly bitter and totally tasty.
Its Indian spiced tea was sweet, spicy and milky, and the cinnamon lingers in your mouth after each sip. The mulled wine is not a bad choice either, especially if you've just walked in from the cold early spring weather in the evening.
Lounge in one of the diverse lounge chairs and sip away as the wine, rum, citrus and spice warms you from your head to your toes.
An incubator for emerging artists and an eclectic bar space for those who like to watch strange and brilliant things right as they are happening, Zajia is a place that should not be overlooked.
sundayed@chinadaily.com.cn