Up close and personal with dumplings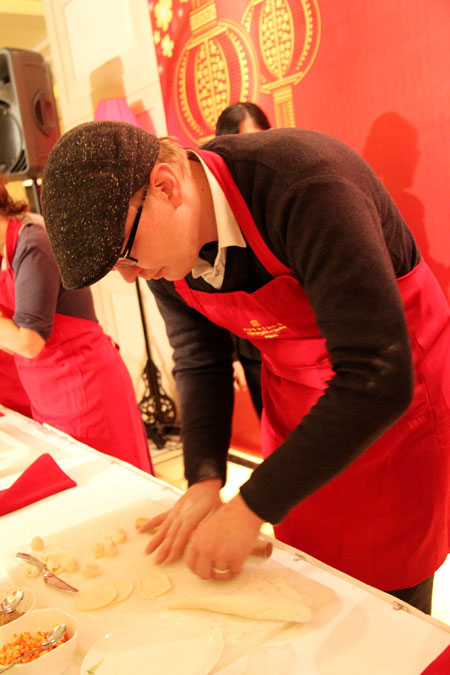 Iwas stuffing dollops of minced meat into jiaozi - for news cameras. I had thought I'd signed up for a class, and I had, but it also turned out to be a televised contest.
Furthermore, I wouldn't have needed the instruction if I'd had any idea as to how to make jiaozi. So, like the others, I was starting from scratch not only in terms of ingredients but also in skill set.
I'm very good at eating dumplings. But I'm not very astute at making them, as I discovered at the recent competition of nine foreign journalists hosted by the Shangri-La Hotel, Beijing. The event would air on Beijing TV's Lifestyle Channel in early February.
Nonetheless, my dumplings - despite looking like limp baby fists - won first prize.
That's likely because I enjoyed the geographical advantage of working the station next to our teacher, acclaimed food blogger Han Ping. She showed me everything I was doing wrong - which was everything, at least initially.
Despite fumbling with fingers about as agile as horse hooves, it was indeed a fun way to gear up for Spring Festival.
While jiaozi are now eaten year round in China - I gobble at least a plate a week - it's during the grandest Chinese holiday that they traditionally take center stage in the foremost family feast.
I've tried my (maladroit) hand at wrapping jiaozi before at local friends' houses, but the ones I'd twisted together unraveled when boiled. The doughy skins disgorged their guts in the gurgling pots, producing something more like a minced-meat-and-noodle soup - but still not actually a soup of any kind.
Under the spell of Han and the Shangri-La's culinary wizards, I was able to conjure enough magic to ensure my dumplings, no matter how unsightly, weren't disemboweled in the cauldron.
There were plenty of chuckles - while locals were laughing with us, we contestants were mostly snickering at ourselves.
It was one of the moments in which I've felt the most foreign since coming to China seven years ago - and one in which I've most enjoyed doing so. Then came the prize. But none of us knew what it was.
It was shaped like two white-and-orange koi fish. But what it was made out of, I had no inkling. My first guess was soap, except the packaging suggested it was edible. I showed it to a few Chinese friends who visited my home in the following days, and they also furrowed brows.
Finally, I consulted a friend from Guangdong province, who said it's a southern China New Year favorite called niangao, or "year cake", made from rice dough. The fish shape hails from the saying: "Nian nian you yu", which sounds like the words for "have a surplus every year".
I shared the treat with another friend from South China, whom I truly hope enjoys future prosperity.
My wife, daughter and I will spend Lunar New Year's Eve making jiaozi with my gandie (adoptive Chinese father) and gan gege (adoptive elder brother). Thanks to the contest and training, I will at least be able to advise Carol and our 17-month-old - or so I hope.
But it doesn't matter what our dumplings look like. Jiaozi are like life: Whatever the appearances, it's what's inside that matters.
erik_nilsson@chinadaily.com.cn