Family feast gives festive feeling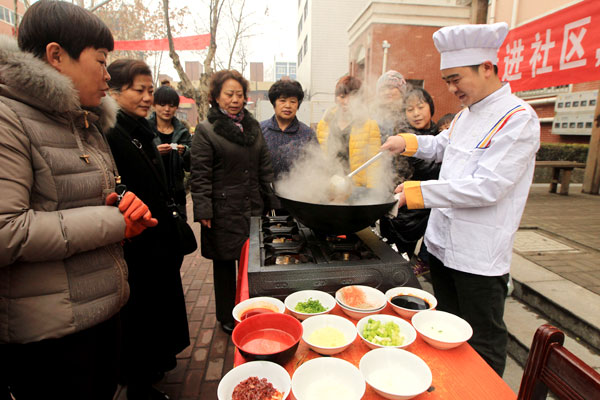 A restaurant chef teaches residents how to make dishes for Chinese New Year's Eve at a community in Xuchang, Henan province, on Wednesday. Niu Shupei / for China Daily
Sharing a meal with family on Lunar New Year's Eve is the best way for Chinese people to get into the festive spirit, a survey has found.
The dinner topped the list of activities that get Chinese in the Spring Festival mood, according to a poll released by Beijing research company Horizon Research and Horizonkey on Wednesday.
About 38 percent of survey respondents considered Lunar New Year's Eve dinner to be the most important part of Spring Festival celebrations. About 20 percent chose playing with fireworks, and 15 percent chose pasting festival signs on doors.
The survey polled about 760 people aged 16 and older in four major cities on the mainland, including Beijing and Shanghai.
Chen Wei, a lawyer who works in Beijing, said she has returned to her hometown in Heilongjiang province for Chinese New Year.
"We are going to make dumplings on Lunar New Year's Eve because it is not only a traditional ritual but also a way for family members to bond," she said.
"But having delicious food is not what we care about any more because people's lives are greatly improved these years," she added. "We just want to enjoy the precious moments of sitting around the table with many family members chatting."
The core value of Chinese New Year is being reunited with family, said Wang Zuoyi, a folklore expert in Beijing.
"No matter where you are, you should reunite with family to have dinner together. That is the main drive behind the huge flow of transportation during Spring Festival," Wang said.
Four in five survey respondents said they plan to have a family feast at home instead of dining out on the Lunar New Year's Eve.
About 9 percent of respondents said watching the annual China Central Television's Spring Festival Gala puts them in the festive mood, but opinions on the gala were divided among different age groups. The survey found only 4.8 percent of people born in the 1990s considered the gala important, but 15 percent of those born in the 1950s rated is as a significant part of celebrations.
Cash gifts topped college students' New Year wish lists, followed by electronic products, according to another survey conducted by Horizon and telecom giant China Union, which polled college students in Shanghai who came from across the nation.
The survey found that each student will receive an average amount of 1,520 yuan ($240).
In China, it remains a popular custom for older relatives to give red envelopes filled with money to young family members as a way to wish them luck.
More than 60 percent of those polled wished for cash, followed by a cellphone or an iPad, the least desirable gift was books, with only 0.2 percent hoping for reading materials.
"I do not object to the idea of books, but it is hard for others to know my reading taste," said Qi Siyao, a 24-year-old graduate student who studies in Nanjing, capital of Jiangsu province.
Contract the writers at hedan@chinadaily.com.cn and yangyao@chinadaily.com.cn