Hidden dragons, crouching tigers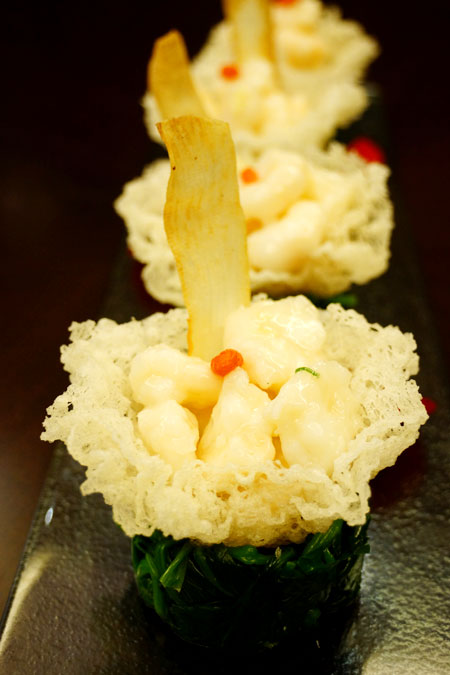 Yang Zhansheng injects innovation into Chinese food in such dishes as the signature river shrimp. [Photo by Ye Jun / China Daily]
At Lunar 8, Fairmont Beijing, Chef Yang Zhan-sheng takes pride that you can have a miniature culinary tour of China right at the table.
When he first became a chef, he worked as an intern at Quanjude Peking Roast Duck Restaurant, but he later worked at international hotels in Beijing and in South China, absorbing cuisine styles from all over the world.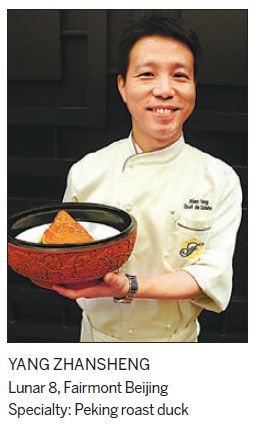 "A chef needs to keep in touch with the times," says Yang, 40. "Cuisine styles develop in tandem with the economy. The Chinese are richer than before, and they are more particular about what they eat. A chef needs to be able to guide them."
He says China had distinctly different regional cuisines because it was more difficult to move around, but now that the infrastructure is so sophisticated, more and more restaurants are serving up a fusion of styles.
There is also the influence from Western cuisine, seen in more salad offerings and the beautiful presentations of desserts.
Yang defines what he offers as "creative new Chinese food", but there is also his excellent Peking roast duck.
His food philosophy is reflected in what he has to offer for that special dinner of the eve of the Spring Festival.
One of the highlights will be a bacon roll stuffed with Chinese glutinous rice, and paired with tender tofu. Another dish will be yellow croaker sealed in salt and flour, and baked. Just before serving, it is doused in liquor and set alight for a spectacular display at table.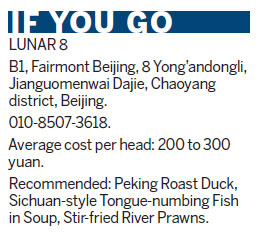 Then there are dishes that shows off precise kitchen craft, such as the carefully sliced pork belly stacked into a pyramid and served with mushroom and cabbage.
Every dish on Yang's New Year menu is given an auspicious name to usher in good luck for the whole year. The set also includes his signature Peking roast duck, served in three plates: skin, meat and skin with meat. The carcass is boiled into a soup with nutritious Chinese herbs in it. The set also comes with a salad and a duck spring roll.