Hidden dragons, crouching tigers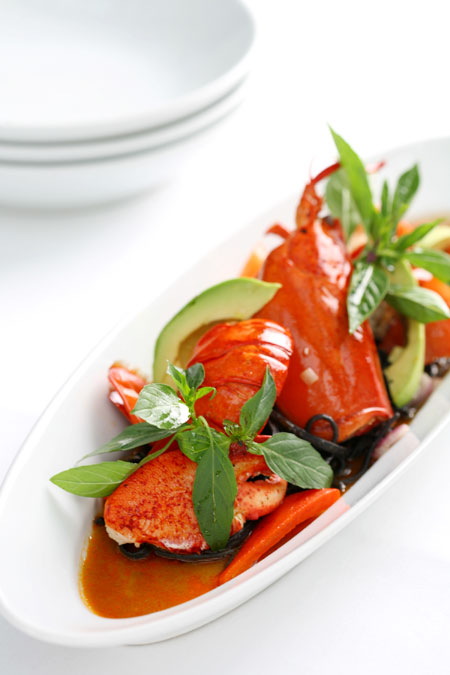 Aw Yong's dish of spiced squid ink linguini with Boston lobster and red peppers demonstrates his expertise.
Jack Aw Yong has never had time to eat in another Chinese restaurant in Beijing rather than his own outlets. The Singaporean executive chef of the Park Hyatt Beijing has been here since 2007, when he came to prepare for the hotel's opening.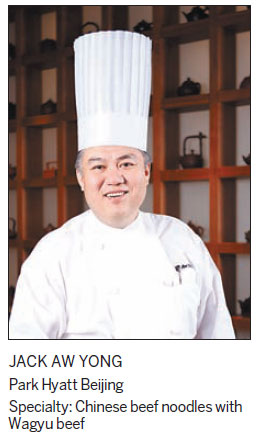 Since then, he has built a formidable reputation among Beijing's gourmets, creating a few landmark dishes that are copied to this day by other chefs - high accolades in a city of foodies.
He was the first to prepare braised pork belly with black truffles in a clay pot, a dish now conscientiously imitated by high-end Chinese restaurants in Beijing.
His Private Room Chinese Restaurant was known for its creative new dishes, such as dumplings with black truffle and a range of delicious zongzi, the little baby pyramids of rice and fillings.
Aw Yong likes to exercise traditional ideas with the best ingredients, and recently on the Park Hyatt's 63rd floor, he presented classic Chinese beef noodle using the best Wagyu beef. His version of this northwestern pasta specialty is a bit pricey at 130 yuan ($21) plus surcharges, but it is certainly a cut above the average beef noodle in the capital and would satisfy the most discerning lover of beef.
The expertise of Aw Yong and his team was showcased at a recent media event, where they created four giant ice-carvings of snakes for use as wine coolers and to chill champagne and caviar.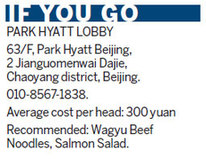 A dazzling starter platter included beautifully presented seafood, meats and vegetables, including lobster, goose liver mousse, and oolong tea smoked duck breast.
Bird's nest was used together with Iberico ham in a consomme served in a wax gourd carved with a Chinese poem, And even the butter had been whipped with truffles for a smooth, aromatic spread.
Chef Aw Yong has raised the bar for food presentation and standards, and we wait to see what he will do to challenge himself next.