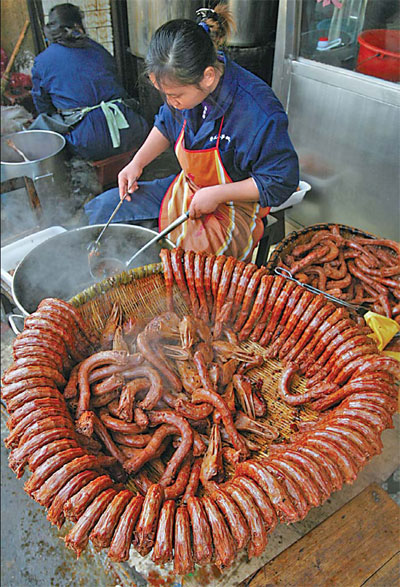 A cook prepares duck necks at a food stand on Wuhan's Jingwu Road, which was demolished for a multifunctional residential community. Provided to China Daily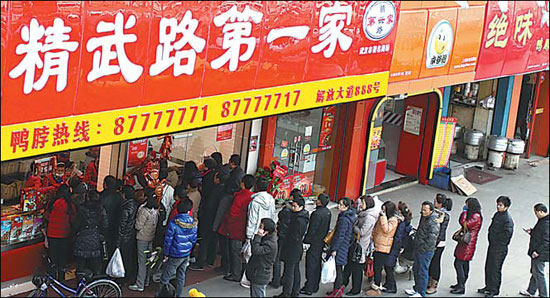 A long line outside a popular spicy duck neck store in Wuhan, Hubei province. Sun Xinming / For China Daily
The street is no more, but its name remains on the signature delicacy that became a nationally celebrated dish. And, the competition is still just as fierce. Wang Ru reports in Wuhan.
Wu Jixue has kept the local newspaper from Jan 22, 2011 - the day Jingwu Road in Hubei province's provincial capital Wuhan was demolished, along with its signature rows of spicy duck neck stores. The 50-year-old is among the tycoons who made a fortune on Jingwu. His family-run business has grown from its first shop in 1995 into an empire of 12 chain stores, a factory with about 1,000 employees and 150 million yuan ($24 million) in sales.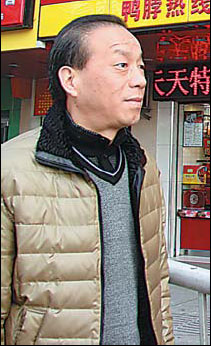 Wuhan tycoon Wu Jixue made his fortune selling duck necks. Wang Ru / China Daily
But while his business survived the demolition, Wu says he feels like he has lost a child. Jingwu was where his business was born, and he helped the road's spicy duck neck industry develop from a jumble of ramshackle sheds into more organized food stalls.
There are many stories about the dish's origins. The most widespread says a local man named Tang Lajiu created it on Jingwu in 1993.
Vendors usually discarded the duck necks back then.
Tang and his brother took inspiration from Sichuan's spicy cuisine and stewed them with herbs and spices.
The lines in front of Tang's shop grew and started to include celebrities.
Wu, who worked as a taxi driver before opening a grocery shop, noticed the growing popularity and opened a duck neck stall outside his store on Jingwu's southern end.
The location helped his business boom. The stall ran 24 hours a day, and Wu decided to close his grocery and sell the necks full time.
Most customers were passengers and bus drivers from a nearby bus station and late-night patrons of a neighboring nightclub.
Soccer fans started pouring in by the thousands after the local team, whose home stadium was near Jingwu, joined the top tier of the national professional league in 1997.
"Every stall was too busy to feed them all," Wu recalls. "Local officials had to stand in line. I was often too exhausted at night to count the day's earnings."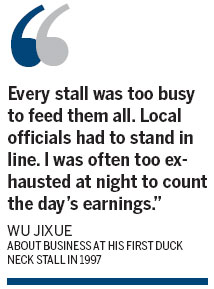 Wu opened three new stalls in 1997. He turned down an offer to a buy his business in 2000, although he was offered 10 times his investment.
That was a wise move. In 2002, the film Life Show, centered around a Wuhan woman who earns her living selling spicy duck necks, lifted the dish to national acclaim.
Visitors to the city started flocking to Jingwu en masse to try its famous duck necks.
But a year later, SARS disrupted Jingwu's business.
Only about 40 of its 100 stalls survived the epidemic. Wu didn't abandon his business but stocked up on frozen necks.
"The business couldn't fade," he says. "Its reputation was too great."
By 2004, Wu had become one of Jingwu's richest tycoons. That same year, he established his company and upgraded his stalls into eateries where staff wore uniforms and used disposable gloves.