Celebrating the winter solstice in China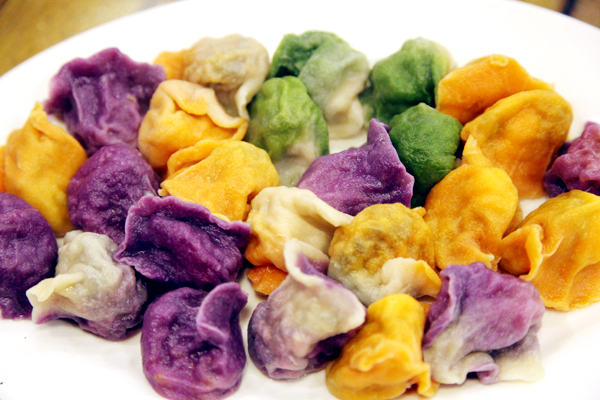 Colorful dumplings at Baoyuan Dumpling House in Beijing [Photo by Fan Zhen/China Daily]
The Chinese divides the whole year into 24 solar terms according to climate changes. Winter solstice, "the arrival of winter", is one, and it is the earliest recorded. It usually coincides with Dec 21 to 23 in the Gregorian calendar and is the shortest day of the year.
In the Chinese concept of yin and yang and the five elements, winter solstice is especially critical to maintaining yang qi, the masculine strength which keeps the body warm in winter.
For the Chinese, the day is also one among three important days in the year for family reunions, and in South China, an old saying goes: "Winter solstice is no less important than the Spring Festival".
The other traditional family reunion days are the Mid-Autumn Festival, and the Eve of the Lunar New Year, or Spring Festival.
As in all Chinese festivals, food plays an important part during the winter solstice, with customs varying from place to place.
In the north, winter is all about fending off cold, and mutton and dumplings are eaten to dispel the chills and warm the body.
It is said this tradition started in the Han Dynasty (206 BC-AD 220), when many of the homeless were suffering from frostbite.
Zhang Zhongjing, the "medical sage" of that age, invented an ear-shaped dumpling filled with lamb and pepper and called it jiaozi or dumpling. To remember his kindness, people started making and eating dumplings every winter.
In Sichuan province, the must-have on winter solstice is called chaoshou, also a dumpling, but smothered in the province's signature red chili sauce.
Noodles are more popular in the inland areas. In Ningxia Hui autonomous region, it's traditional to have tounao, a mutton and noodle soup. Other ingredients include black mushrooms, red chili, green garlic shoots and yellow day lilies. The first bowl will be placed before the ancestral shrine.
Tangyuan, or colored rice flour filled with sweet crushed peanuts, sesame or red-bean paste, are what the southerners prefer on the winter solstice.
It is often served in a clear, sweet soup flavored with ginger, or osmanthus flowers.
To the common people, the winter solstice means a happy occasion to get together, where the coziness of being with family and friends will warm the longest and coldest night of the year.
sunye@chinadaily.com.cn