Fine wine, friends and a crabby crustacean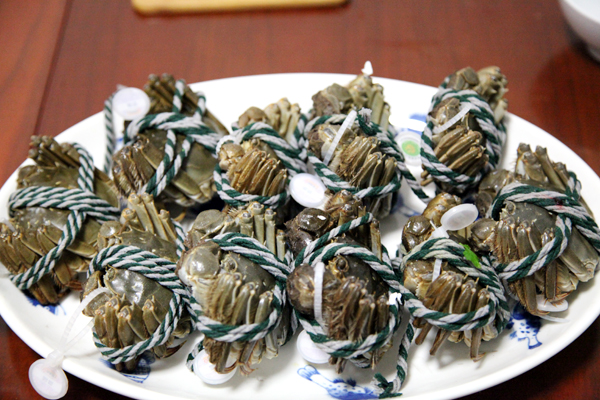 Hairy crabs [Photo by Fan Zhen/China Daily]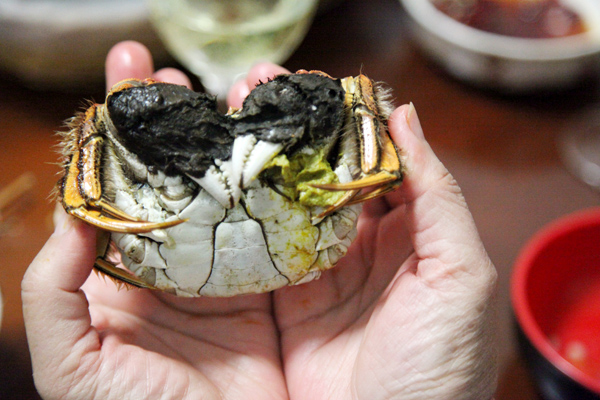 Male hairy crabs [Photo by Fan Zhen/China Daily]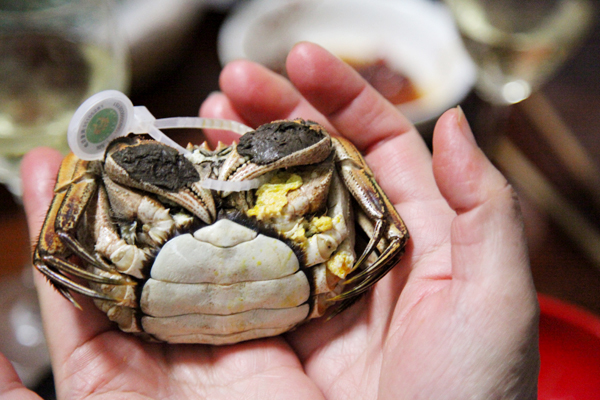 Female hairy crabs [Photo by Fan Zhen/China Daily]
In China, seasonal foods are big business, but none bigger than the current hairy crab season. Millions will be spent before the obsession fades with the first snows of winter and the crustaceans are allowed to hibernate, mate and grow fat again for another year.
Related: Nothing but the whole crab
The annual frenzy starts as September arrives, together with the cooling days and the scent of blooming chrysanthemums. It continues through October and tapers off as year-end approaches.
In the meantime, restaurants and seafood shops announce the arrival of the crabs with red banners across storefronts, and on television, cooking shows will offer endless tips on how best to cook the crabs.
Not any crab will do. Only the pedigreed blue-gray ones found in Yangcheng Lake in Jiangsu province will have the magic to command astronomical prices. The crabs are a freshwater variety that is also known as mitten crabs, for the furry patches on their claws.
In Chinese, they are known as dazha xie, dazha meaning "gate" or "river locks" and xie meaning crab.
Found elsewhere from Yangcheng Lake, the hairy crabs are simply known as he xie, or river crabs. For the Yangcheng Lake branding, eager gourmets are prepared to pay as much as 250 yuan ($40) per 500g - but only for those crabs with coded tags, which can be scanned to trace their origins.
The perfect size for a hairy crab is measured with a rice bowl, about 10 cm in diameter. The female has smaller claws and less bristle, and weighs about 150g on average. The males are larger and can weigh in at 250g.
Female crabs, with a round flap on their bellies, mature earlier and early autumn is when they are fat with golden roe, with softer shells and sweeter meat.
In October, the males are ready for market. You can tell male from female because male crabs have a narrower, arrow-shaped tummy flap. Male crabs are prized for their creamy milt, which many prefer to the more abundant, but less refined taste of the female's roe.
Hairy crabs are mainly eaten steamed, with a simple vinegar and ginger dip. Sometimes, vendors will put in a small packet of dried perilla leaves to be added to the steamer. Perilla leaves are believed to help neutralize any toxins in the crabs.
Last week, we had a crab party at a friend's home. The crabs were fresh from the market and steamed to a golden red. The host served the huge platter of crabs with a vintage bottle of nu'er hong, or virgin red, an aged Shaoxing wine.
As we sipped from specially made ceramic cups, the wine warmed our tummies while the crabs delighted our palates.
It was a convivial evening as we picked every morsel of flesh clean from our prickly crabs, and washed it down with wine and ginger tea.
And finally, I understood why this food fad has returned year after year, surviving dynastic changes and revolutions. Nothing beats sweet crabs, fine wine and the company of good friends.
Please contact the writer at fanzhen@chinadaily.com.cn