Going back to grassroots
A short hike up the fairly steep Western Street, turn right on Third Street and do a right again on Fuk Sau Lane, and you are there. Here, it's calm and cozy with lots of potted plants just outside the shop-front. This is Grassroots Pantry, a small independent restaurant that serves no meat.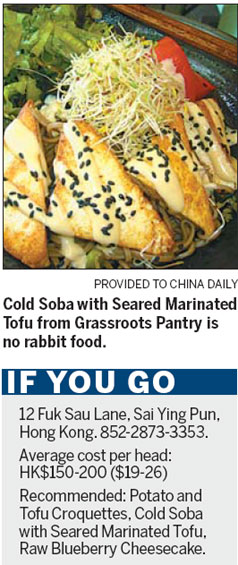 "Rabbit food!" you may say. Well, actually no. Rabbit food is definitely not served here. This lovely little place up in the much less congested Sai Ying Pun area on Hong Kong island serves dishes such as quinoa salad with dried fruits and hazelnuts, Japanese cold soba with seared marinated tofu, hijiki salad, and tahini miso dressing as well as a raw blueberry cheesecake. Definitely not rabbit food.
While we were growing up, eating meatless meals would have been unusual. Our large freezer at home was filled with T-bone steaks, pork chops, and whole chickens. However, the interest in what we eat has become a major topic for many, and more and more are eating less meat and more vegetables.
Being in Hong Kong where everyone eats out several times a week, it is no surprise that so many vegetarian restaurants have opened up to cater to these "newly aware" diners. It's great to see the growth in the number of dining options for vegetarian or vegan diners. While I don't want to extol the many benefits that the converted lists when it comes to a plant-based diet, I do take joy in partaking of a meat-free meal when I have the chance.
At Grassroots Pantry, the experience included some lovely textures and flavors, some subtle, some not, but all making the meal an enjoyable one.
Crispy on the outside, soft on the inside, the potato tofu croquettes were served with slightly spicy homemade ketchup. The quinoa salad was slightly crunchy and chewy with a bit of sweetness. The cold soba noodles with seared marinated tofu was a picture of contrasts and well seasoned.
Other dishes that are recommended are the spicy Thai vegetable green curry made with hedgehog mushrooms and served with brown rice. The raw blueberry cheesecake is actually vegan, made with coconut milk and crushed nuts. It is not too sweet, and really more like a firm mousse than a cheesecake, and a lovely way to end the meal.
Grassroots Pantry also has a private dining area upstairs for larger group or for cooking classes and workshops. It is a small place in an up-and-coming area of Hong Kong, so it's a bit off the beaten track. However, if you're looking for a lovely neighborhood restaurant serving high quality vegetarian food, Grassroots Pantry is the perfect choice.
sundayed@chinadaily.com.cn