Getting there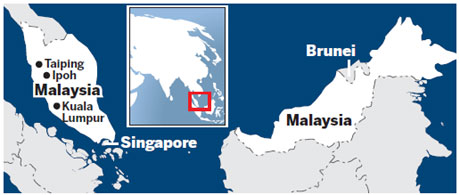 Getting there
Malaysian Airlines provides direct flights from Beijing, Shanghai, Guangdong's provincial capital Guangzhou and Yunnan's provincial capital Kunming, to Kuala Lumpur.
It costs RM35 ($11) for a two-hour train ride from Kuala Lumpur to Ipoh. The bus trip from Ipoh to Taiping takes about one hour.
Accommodation
Ipoh offers many choices for accommodation, which range from luxurious hotels to economical guesthouses, from $20 to 30 a night.
Food
Seize every opportunity to enjoy local food which mixes southern Chinese and Malay cuisines. The Cantonese dim sum in many local restaurants is very good. A kind of coconut milk rice with curry called nasi lemak, Malaysia's national dish, is a must try, but the chili paste may be too spicy for some people.
Bring some medicine in case you have a weak stomach and cannot handle the richness of Malaysian cuisine.
Other Tips
There is no direct currency exchange service between RMB and ringgit in China, so bring some cash to Malaysia. You get a better deal if you change your money at KL Sentral Railway Station or some local stores, compared to the airport.
Vehicles drive on the left side of the road in Malaysia.
Malaysians emphasize their ethnic diversity and Muslim traditions, so pay attention to your words, dress and behavior to respect local culture.