Dressed for the sun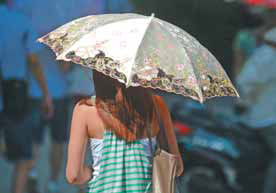 Many people use umbrellas to protect themselves against ultraviolet rays in summer. Meng Delong / for China Daily
As we experience the hottest days of summer in Beijing, sunscreen, sunglasses and umbrellas are flying off the shelves. And joining the list is clothes that protect you from the sun.
It is claimed that "sun protective" clothing reduces damage from ultraviolet rays in summer, and the sales pitch is obviously convincing.
Ji Meng, a white-collar worker in Tai'an city, Shandong province, bought some a few days ago because she planned to take up driving lessons this summer.
The young woman pays a lot of attention to sun protection and uses sunscreen every day. She is also a frequent customer on Taobao.com, a popular Chinese online marketplace.
This was where she discovered sun protective clothing, and she bought some without a second thought.
"There were so many shops selling sun protective clothing, and I couldn't help noticing them," Ji says.
"Most of them were very cheap. I bought a piece for a few yuan. I thought, that's OK even if it does not work."
Most sun protective clothing consists of thin, long-sleeved hoodies that are in just one, light color and are sometimes transparent.
When Ji received the clothes she ordered, she says she thought they were pretty, but very thin.
"I really doubt it can block the sunlight," Ji says. "It's not a big deal. I didn't spend much money on it."
Actually, not all "sun protective clothing" can do the job.
"Strictly speaking, sun protective clothing refers to clothes specifically designed for sun protection, and is produced from a fabric with ultraviolet protection function," says Zhao Guoliang, head of the School of Material Science and Engineering, Beijing Institute of Fashion Technology.
The idea was first popularized in Australia, and since the mid-1990s many other countries, such as the United Kingdom and the United States, have adopted laboratory-tested procedures before labeling the clothing sun protective.
In China, although there are no industry standards for such clothes, there are regulations on rating fabrics for their levels of ultraviolet protection.
Usually, the sun protection factor, or SPF, is an index of the function. The higher the SPF is, the stronger the ability of the fabric to block ultraviolet light.
"The sun protective properties of a fabric come from a special procedure that costs time and money," Zhao says. "Not all clothing manufacturers have the ability or the will to produce or buy such fabrics."
Some fabrics make use of a novel weave structure, and are treated with chemicals to enhance protective properties during manufacture.
Some are treated with ultraviolet-inhibiting substances after production to enhance their ultraviolet blocking capacity, Zhao explains.
"For the ordinary consumer, it is best to buy sun protection clothing from trusted brands, and make sure there are SPF labels attached," Zhao says.
liuzhihua@chinadaily.com.cn