Islands of the rising sun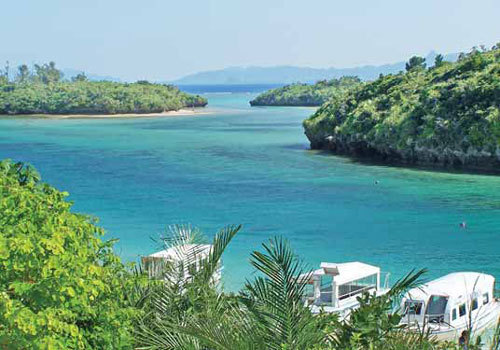 The quiet bay is a gorgeous ring of white sand that looks out onto turquoise waters and a lush green island. Provided to China Daily
From obscure reefs teeming with life to idyllic walks through jungle and boutique getaways on pristine white beaches - Clare Pennington explores the beauty of the Yaeyama Islands in Japan.
Calls of "obasan", "ojisan", echo into the street. Peering through to a stranger's front room, I see a tall figure dressed in blue, back bent, circling the room. In a stylized, high-pitched voice, the man answers the crowd - joking to them that they should drink lots and enjoy themselves, and telling the kids to eat more chocolate.
Wearing the mask of a deeply tanned and wrinkled old man, he is accompanied by the spiritual grandma, obasan. The couple goes from home to home, inviting everyone to join in their crowd of masked, flower-bedecked dancers, playing drums and singing.
It is the second day of Ishigaki's Angama festival, when the spirits of ancestors are thought to leave the netherworld for their family homes each September. This is not the last taste of local culture I was to have while traveling through Japan's southernmost isles.
By the following morning, I plunge into the water among the island's northern coral reefs. I decide to engage a guide to tackle the strong and unpredictable currents where the reef meets the deeper ocean, and get a taste of the sea life.
Propelling myself off a cliff of colorful corals, my skin is chilled several degrees as a sharp drop off quickly opens up into the deep dark ocean.
Turning back over the reef, clownfish patrol their anemone nests and irabucha, their purple-blue scales revealing flashes of green and red, skim over circular platforms of dark coral.
But while nature has plenty of stomping ground around Ishigaki itself, I wanted to explore Yaeyama's other ports.
After a day's island ride and another on its stunning star-sanded beaches, I head on to Iriomote, famous for its jungle interior and native cat species, the Iriomote yamaneko - a small subspecies of leopard.
After a first night in a simple but beautifully situated farmhouse-turned-hostel, I am off to tackle the Pinai river, a watercourse which reaches into the heart of the island.
In the morning's high tide, the river stretches wide before us, submerging mangroves so the tips of their leaves barely poke through the surface.
After a couple of hours of paddling, we disembark and secure our boats. We continue up into the island, treading carefully along slippery ravines, lichen-covered rocks, and vine-riddled earth for an hour.
Hot and tired, we are rewarded by an ice-cold freshwater pool, water crashing from a ledged waterfall carved into the gray rock - perfect for a cool dip.
A few hours and a packed lunch later, we clamber back down. Instead of floating on gently lapping water, our boats are now stuck in the mud, the water having retreated at low tide.
What had been underwater banks are now inhabited by a species of side-scuttling crabs, stealthily moving from hole to hole as they hunt for their dinner.
There are moments when we get out of the kayaks and carry them because the water reaches only a foot in height. Some of the trees we had floated over that morning now reach over our heads.
Aching all over from the exercise, an outdoor hot-spring bath sounds inviting. Lying in the volcanic hot waters, the heat scalds and relaxes my strained muscles.
Above a converted farmhouse, the earlier pink-orange sunset is now a sky twinkling with stars - in fact, the sky is so clear that astronomers frequently make observations in this area.
Awamori, the islanders' version of rice wine, is mellowed with some water, and after a few glasses of the stuff, we arrange to join a pair of holidaying Japanese veterinarians on their snorkeling trip the following day.
Taking a boat out to the west of the island, we swim into a forest of life. Poisonous scorpion and blowfish guard their territory as we swim a safe distance away, while a rainbow of color flit between them in small schools.
Drop offs and underwater valleys encrusted with fist-sized clams make the underwater landscape even more spectacular - and then there are the sea turtles.
Grinning, our veterinarian grabs an unsuspecting specimen and brings the creature to the surface for his colleague to see. He tells us to get underwater, and when he releases the panicked creature, it swims off at impossible speed.
For lunch, our captain suggests we eat on one of the islands that boasts a single inhabitant.
The elderly ex-photographer, who has forsaken his city life and even his clothes to be at one with nature, welcomes us graciously.
We repay his hospitality with some fruits and snacks, a welcome change, he says, from the frogs he has been hunting.
After experiencing the wildlife, it is about time to head back to Ishigaki, and a little more civilization. Home to Japan's karate culture and architectural traditions of their own, I find myself in the old residence of Miyara dunchi.
The wooden structure is shrouded in plant life and has a different kind of serenity from Japan's sand gardens.
I spend my last few days in Ishigaki in Auberge Kabira, a boutique luxury hotel on Kabira Bay. The quiet bay is a gorgeous ring of white sand that looks out onto turquoise waters and a lush green island. Dining on the island's famed beef, thinly sliced and eaten raw, or cooked in sweet sauces over a flame and grill, I was converted. The meat, with little oil and marbled fat, is considered by many in Japan as the best - and they are not wrong.
Before returning to life in the city, I head under water one last time. A world away from the bright warm reefs, we watch as winged manta rays float above.
The only sound is my own breathing, and in the silence under the sea, I consider how good I feel, deeply relaxed, happy and healthy after just two weeks exploring these islands.