Samui sunshine plates
Recipe | Som tam esan / Green papaya salad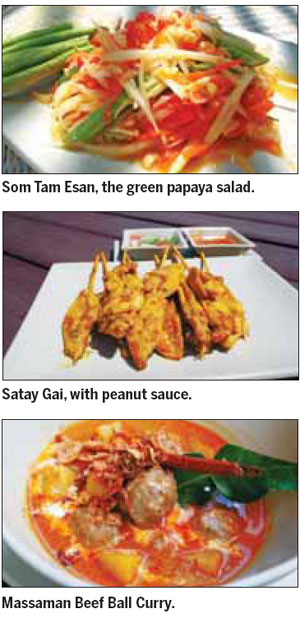 Ingredients (serves 4):
1 medium green papaya
1 tbsp shredded carrots
2-3 cherry tomatoes
1 tbsp dried red shrimps
2 tbsp ground peanuts
2 peeled garlic cloves
1-2 red bird's-eye chilies
1 tbsp palm sugar
Juice of 1 lime
1 tsp fish sauce
Method:
1. Peel the green papaya. Using a sharp chef's knife, chop the green papaya, making deep vertical cuts on its side. Slice against the cuts to get papaya shreds. (Or cut the green papaya into fine shreds your way.)
2. Place garlic and chili into a mortar and pound. Add the cherry tomatoes and crush them. Add the palm sugar and fish sauce.
3. Add dried red shrimps, the carrot and green papaya julienne, and pound and mix to blend the ingredients.
4. Squeeze the lime juice over the papaya salad. Adjust seasoning. Finally, scatter with ground peanuts and serve at once.
Recipe | Larb gai / Minced chicken salad
Ingredients (serves 4):
200g minced chicken breast
100ml chicken stock
1 stalk spring onion
A few sprigs fresh coriander
A few sprigs mint leaves
A few sprigs Vietnamese mint
2-3 kaffir lime leaves, very thinly shredded
1 stalk lemon grass, finely minced (tender white part)
2-3 small red shallots
1 tsp chili flakes
Juice of 1 lime
1 tsp fish sauce
2-3 tbsp toasted glutinous rice powder
Method:
1. Place chicken stock in a saucepan and add the minced chicken. Stir gently and break up the largest clumps. Cook over low heat and remove from heat as soon as it turns all white.
2. Slice all the mint leaves and spring onions. Finely chop lemon grass. Cut shallots into thin slices.
3. Strain the cooked chicken and place in a mixing bowl. Add the chili powder, fish sauce, lime juice, and toasted rice powder. Season with a small pinch of sugar.
4. Mix in all the herbs and toss well to mix.
5. Garnish with blanched long beans and a wedge of white cabbage.