Chengdu: City of Gastronomy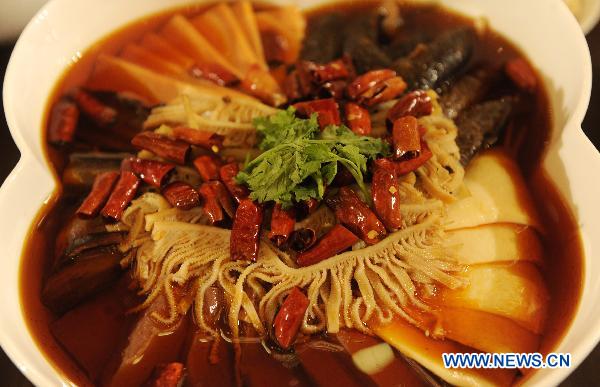 File photo taken on Sept 26, 2010 shows Mao Xue Wang, a kind of Sichuan food made of tripes, beef and other materials in Chengdu, southwest China's Sichuan province.[Photo/Xinhua]
People in Chengdu, capital of Sichuan, not only visit the luxurious hotels, but also smaller restaurants scattering on the streets and lanes to enjoy the delicious dishes.
Sichuan Cuisine, with the fiery-red chillies, long-lasting spicy flavor, presents people with exciting feast both to the eyes and the tongues. With exceptional advantages, such as highly developed food industry, professional hotels and restaurants, plentiful talented cooks and time-honored traditional cooking skills, Chengdu hosts many different gourmet festivals and cooking competitions to promote and protect the traditional food culture.
The United Nations Educational, Scientific and Cultural Organization (UNESCO) has nominated Chengdu to join its "Creative Cities Network" for being the birthplace of many culinary traditions. Chengdu was the second city in the world and the first city in Asia to enjoy the designation of "City of Gastronomy".
As the cradleland of Sichuan Cuisine, Chengdu has become one of the most important cuisine centers in the world. Sichuan Cuisine is a culinary art that utilizes 20 major cooking skills and techniques, such as saute, boil, fry, stir-fry, roast, braise, stew, simmer, steam, bake, marinate and toss. Meanwhile, 10 major flavors, such as spicy, sour and hot, home-style, gingered, sweet and sour, and garlicky, make Sichuan Cuisine the first among the eight great styles of Chinese cuisine. But after all, it is the spicy and hot flavor that has won the world reputation of Sichuan Cuisine.