Tattoos make a mark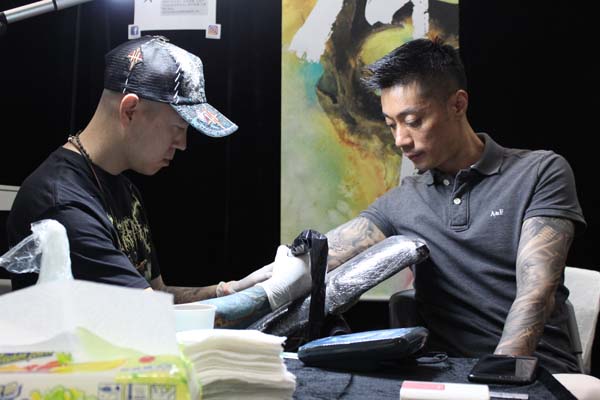 A tattoo artist is working on creating a pattern on a visitor's arm during a tattoo expo held this month in Shanghai. [Photo by DOMINIC MORGAN/CHINA DAILY]
Chinese are getting inked up in record numbers as the social stigma attached to body art fades in the country. Dominic Morgan reports in Shanghai.
It was not just the number of people, but also the diversity of people in the room that was striking.
Just a few years ago, a tattoo expo in Shanghai would have been a niche event at best-assuming the organizers would even have been able to get a license to hold it.
But over Sept 1-3, tens of thousands crammed into the Shanghai International Fashion Center to attend the Tattoo Extreme & Body Art Expo.
When Taiwan-based Tattoo Extreme magazine organized its first expo in Shanghai in 2015, it attracted around 5,000 visitors.
This year, more than double that number came just on Sept 2, according to Chen Hsiao-yung, the magazine's events officer.
Despite the event's "extreme" pretensions, this was far from a hard-core crowd, the curious students and couples clutching Starbucks cups far outnumbering the goths and punks in the hall.
Such a sight is all the more surprising when you consider that tattoos were banned in China as late as the 1970s, and that the People's Liberation Army only started accepting tattooed recruits in 2011.
But as the expo showed, social norms are changing fast in China.