What's in a name
"Gradually, the logo was transformed from an ostentatious affection to an active fashion accessory. Most significantly, the logo itself was growing in size, ballooning from a three-quarter-inch emblem into a chest-sized marque."
Naomi Klein in her book No Logo (1999)
Before ready-to-wear became standard practice, made-to-measure was a common choice when it came to getting a piece of clothing. In the 1950s, it became popular among Parisian women to collect sewing patterns – the garment template released periodically in magazines – so they could bring the pattern to a tailor's shop or sew it themselves at home.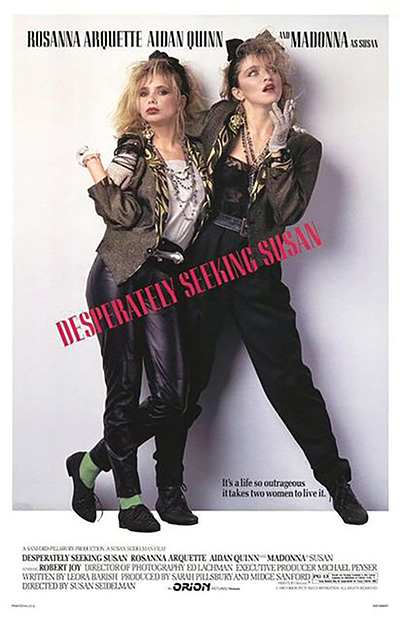 Desperately Seeking Susan (1985) poster [Photo/Courtesy of Orion Pictures]
However, self-sewn clothes had all but disappeared by the 1980s as ostentatious, showy styles took the lead. Attire became highly conspicuous, such as Madonna's garish look in the 1985 film Desperately Seeking Susan, Joan Collins's powerful woman's shoulder pads and the yuppies' preppy upscale styling that rose in parallel with the increase of wealth in many societies including the US, Britain and Hong Kong.
People seemed to be splashing heaps of cash on clothes and desired more visibility. Fashion companies smelled a business opportunity to increase their value by elevating their brand profiles, so they spent enormously on marketing and ad campaigns. Logos evolved from a differentiating name to a strong branding force and a status symbol.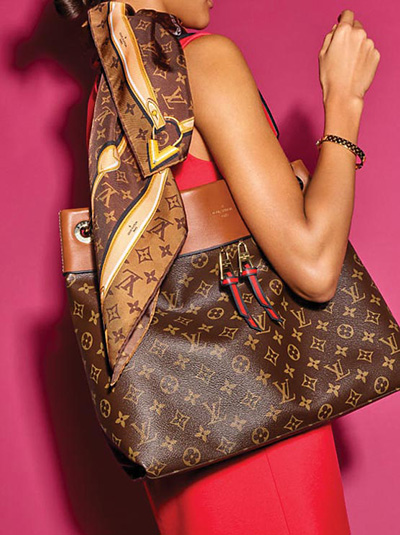 A bag from the Louis Vuitton Monogram Colors collection [Photo/Courtesy of Louis Vuitton]
From the decadent '80s to today, fashion brands have embraced marketing with glamour and creativity, putting their logos under the spotlight. Eminent players in the '80s and '90s included emerging American jeans brands such as Jordache, Calvin Klein and Guess, which put their distinctive logos on the back pocket. Traditional French fashion houses such as Chanel, Christian Dior and Louis Vuitton have been huge marketers as well, in a quest to be at the top of those consumers' minds.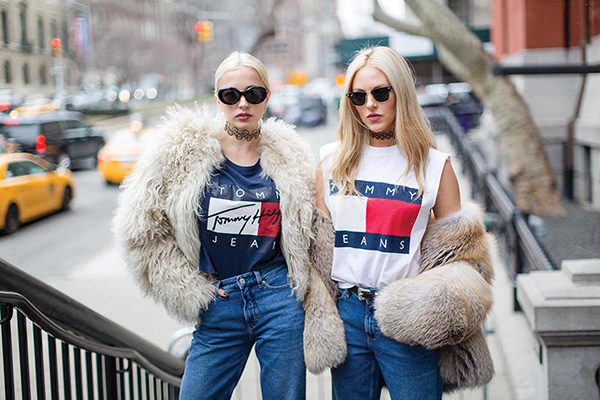 Caroline Vreeland and Shea Marie wear Tommy Hilfiger for autumn 2016 [Photo/Courtesy of Tommy Hilfiger]
In that era, the size of the logo grew, as well as the influence, from runway to off-the-rack. At London Fashion Week in 1996, Tommy Hilfiger famously dressed his models and rapper Treach (from then-prominent American hip-hop group Naughty by Nature) in giant logo T-shirts with the brand's signature colors, making a big statement for the label, Hilfiger sales nearly hit $500 million in 1996 – a huge jump from $107 million in 1992.
Showing off logos became a key point in styling. When Calvin Klein launched its successful underwear campaigns in the early 1990s using topless, well-endowed male models such as Mark Wahlberg for its line of boxers, countless men (and certainly women, too) started to view the logo in a different light. Now it's possible to see any type of person sporting a Calvin Klein band around their waist, whether it's a Hollywood star, a plumber or your next-door neighbor.

Moschino womenswear, SS17 [Photo/Courtesy of Moschino]
Today, logos are prominent on the street – think the Nike swoosh, the Gucci double-G, the Chanel interlocking Cs, the Louis Vuitton monogram. Still others are turning to logo-less products, such as those by Japanese lifestyle brand Muji, whose name means "no-brand quality goods". Either way, whether you love or hate logos, you can be secure that you're not defined solely by what you wear.