Between worlds of taste and recognition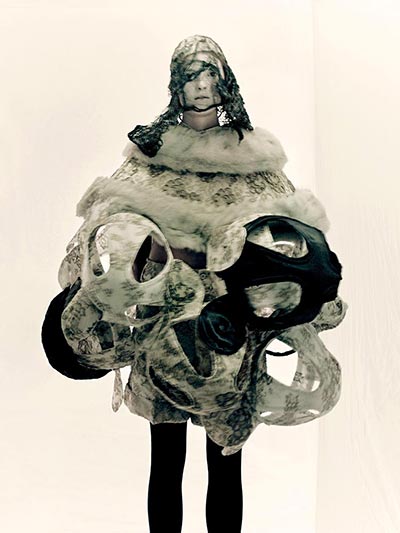 Rei Kawakubo for Comme des Garçons [Photo/Courtesy of Comme des Garçons]
One simple mantra may explain what has evolved: "It's easier to break the rules if you haven't learned them," Kawakubo told this reporter a decade ago. At the time of the collaboration with H&M, she was pre-empting millennial-speak: "There is more and more demand for independent points of view because not everyone wants to be the same as everyone else. Ultimately, people like to be free and independent, if given half the chance."
And in a world full of electronic excitation and daily digital onslaught, Kawakubo's retraction from culture is a plus. For someone so present in terms of influence, she's aesthetically and commercially absent. "Going around museums and galleries, seeing films, talking to people, seeing new shops, looking at silly magazines, taking an interest in the activities of people in the street, looking at art, travelling: all these things are not useful, all these things do not help me, do not give me any direct stimulation to help my search for something new. And neither does fashion history. The reason for that is that all these things above already exist," she said in the 2013 System interview. "I only can wait for the chance for something completely new to be born within myself."
Kawakubo makes for an inspiring figure and, for many, an epiphany. "There is no right or wrong way," she said in an interview with this reporter. "Comme des Garçons is always looking for new ways to express its values, which are based around creating new ideas and making strong, creative clothes." Visit the Met's Costume Institute and marvel at the below-the-radar output of a woman whose work may be timeless, but whose moment of recognition – while more than welcome – is happening at least a decade too late.