Between worlds of taste and recognition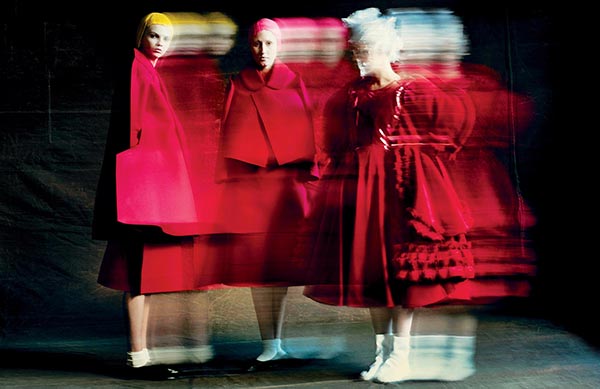 Rei Kawakubo for Comme des Garçons [Photo by Paolo Roversi/Courtesy of Comme des Garçons]
One of the first designers to truly challenge the notions of classic tailoring, Kawakubo's cri de cœur has become deconstruction, bias cuts and all sorts of experiments in shape, seams and asymmetry – much of it gender-bending, such as men's buttoning on an assortment of women's garments.
"Since her Paris debut in 1981, Rei has consistently defined and redefined the aesthetics of our time," remarked Andrew Bolton, curator of the Kawakubo exhibition at the Met, at a press conference to announce the upcoming show. "Season after season, she changes our eye by upending the received notions of conventional beauty and by disrupting the defining characteristics of the fashionable body."
For Kawakubo, clothes seem to be her mode of expression on an endless search for newness and originality. Speaking about her spring/summer 2014 collection, she said in a 2013 interview with System magazine: "I tried to look at everything I look at in a different way. I thought a way to do this was to start out with the intention of not even trying to make clothes. I tried to think and feel and see as if I wasn't making clothes."
Kawakubo didn't study fashion, but art and literature, at Keio University. Her first job was at a textiles factory in 1967, which led to her becoming a freelance stylist. Two years later, Comme des Garçons was born, but it wasn't until 1975 that she opened her first store in Tokyo, by which time the Japanese press referred to her tribal followers as "the crows". She soon inspired the likes of Martin Margiela, Ann Demeulemeester and Dries Van Noten, and helped launch the careers of Junya Watanabe, Tao Kurihara and Chisato Abe. But the fashion mainstream in the West never really got to know her. Many attribute Prada's success to Miuccia's ability to bridge the gap between anti-fashion and commercial high fashion.