Zippo turns 85, still going strong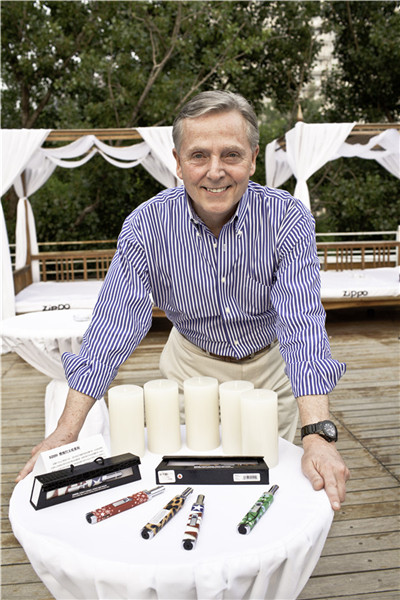 David Warfel, Zippo's vice president of global marketing, says the brand continues to grow dramatically in the Chinese market. [Photo provided to China Daily]
There are brands that are pretty much the face of their industry. Zippo, known for its iconic lighters, is one of them. The brand is celebrating its 85th anniversary this year.
David Warfel, Zippo's vice president of global marketing, was recently in Beijing to talk about how the brand managed to stay ahead for 85 years.
The brand has been growing at about 10 percent in China for the past 10 years. And China is now its top overseas market after the United States.
About 60 percent of its sales come from the US and 25 percent from China.
China also takes up about 20 percent of its annual international marketing budget.
Despite the general sluggish retail scene, China has continued to grow, says Warfel.
"There have been changes. But Zippo has been able to continue to grow dramatically in the Chinese market," says Warfel.
Like everywhere else, the windproof lighter is the most popular model in China.
The brand launched a 360-degree marketing strategy that covers traditional media, social, digital and online marketing. It sponsors rock festivals around the world to reach its target audiences.
For the brand's 85th anniversary, the brand is launching a limited edition model in April.
Founded in Bradford in Pennsylvania in 1932, the brand is best known for its windproof lighters, and it estimates that there are about 4 million Zippo collectors in the US.
The brand is now sold in more than 120 countries around the world.
Meanwhile, Zippo is transforming itself into a lifestyle brand as the global smoker population decreases.
So, besides its iconic lighters, the brand also offers men accessories like wallets, key chains and money clips.
It has also started to offer fragrances in the European market.
In 2004, the company acquired Italian leather producer D.D.M and started to produce leather goods.
Speaking about how popular the lighter is, Warfel says: "The Zippo windproof lighter is so iconic that many people think of Zippo not only as a brand or a company but as a product. In China, the Zippo Windproof lighter is a very aspirational product. It is recognized as special and out of the ordinary. But if you go to a market like the Europe, there we are seen more as a fashion brand, more associated with men's accessories."