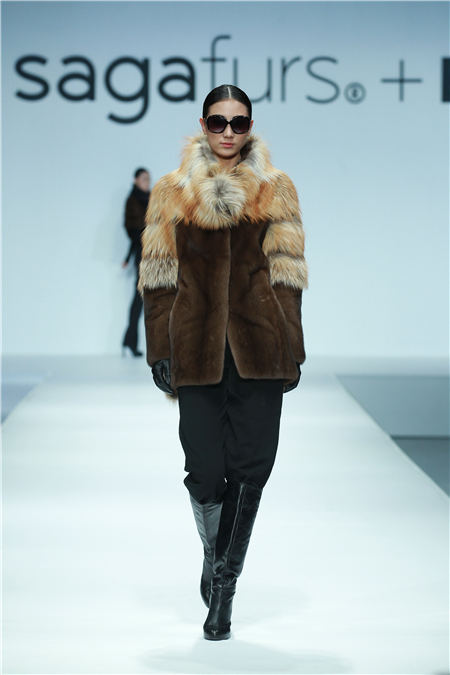 A model shows Saga Furs' fall/winter 2016 collection by international designers in Beijing.
For this collection, he did his research by watching Chinese movies of 1930s Shanghai. He then interpreted this using big patterns, lean silhouettes and shades of red in his designs.
The collection highlights included a fox vest, a mink and silver fox trenchcoat and glamorous evening dresses, all with intricate work by Chinese artisans.
"I never take inspiration literally, whether it's an India-inspired collection or Chinese one," Mohapatra says.
"I try not to be too literal. Because then it's not very interesting to me. It has to be my interpretation of my muse."
A veteran of fur design, Mohapatra says visiting the Saga Design Center was still like "a kid visiting a candy store", opening doors to endless options.
Mohapatra was impressed with the work of Chinese craftsmen.
"The craftsmanship from this country is incredible. It's better than if I was making it myself. I'm from India where we have a lot of crafts that are very detailed like you have here, so I have a lot of respect for that."
The event was part of Beijing Design Week, an annual weeklong event that celebrates everything about design in the city.
The Saga Furs' show signifies "another major leap forward for China's fashion and fur industry", says Samantha Vesala, Saga Furs' Asia business director.