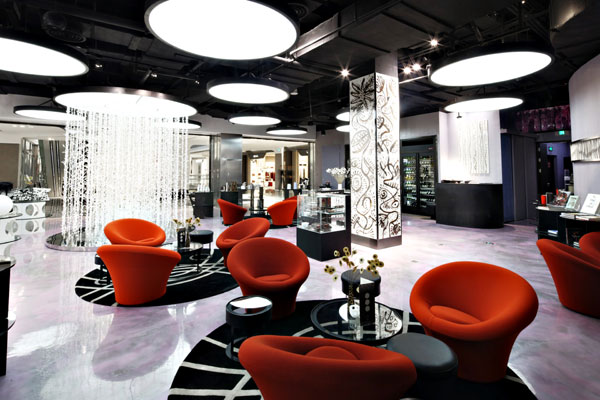 Milanese fashion store 10 Como opens its first Beijing outlet at Shin Kong Place shopping mall. [Photo/China Daily]
Sozzaini was editor in chief for Italian Vogue's special issues before launching Italian Elle as editor in chief in 1987. She set up 10 Corso Como in 1990. The original art gallery and bookshop was later expanded to incorporate a design and fashion store, a cafe, a small hotel and a roof garden.
For Sozzani, running 10 Corso Como is very much related to fashion editing.
"My 19 years in fashion magazines gave me a strong editing eye. In 1990 when I started 10 Corso Como, I wanted to create a living magazine where my 'readers' became visitors and customers. Of course now the Internet offers a virtual experience, but it still cannot satisfy all the senses."
Before coming to China, 10 Corso Como opened a store in Tokyo and two in Seoul.
While Sozzaini has an interest in European and American markets, she calls the Asia-based stores "a personal choice" as she has always been fascinated by Asia and the roots of Oriental culture. She recalls her first trip to China in 1980, a one-month journey by train, as one of her most beautiful memories.
As 10 Corso Como expands to different cities, Sozzaini tries to ensure its originality in each location while speaking to their own traditions and environments in the planning and the initial design, which has been envisioned by American artist Kris Ruhs.
Asked about the next destination for 10 Corso Como, Sozzaini says she hopes it will be "a place by the water".
(China Daily 03/13/2015 page22)