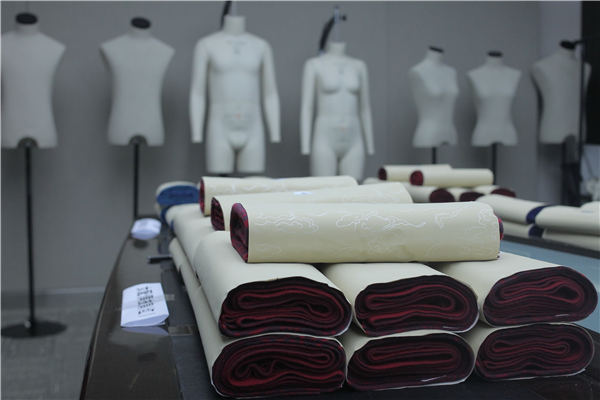 The outfits feature top-quality fabrics. Photo by Wang Jing/China Daily
"The wool used in the specially designed shawls for leaders and spouses can be called the 'king of cashmere'," says Wang Zhen, founder of 1436, a high-end cashmere brand that supplied the garments.
The wool is shorn from Aerbasi goats' shoulders and sides when they're just a year old. Every 500 kilograms of raw cashmere from the goats-raised on Erdos' grasslands in China's Inner Mongolia autonomous region-produces 1 kg of material, Wang says.
The patterns demonstrate traditional Chinese culture and modern style, says Chu Yan, Beijing Institute of Fashion Technology instructor and one of the outfits designers.
Both male and female leaders' and their spouses' clothes feature a traditional standup collar and duijing (Chinese jacket with buttons) that has been used for about seven centuries.
The menswear got an innovative addition-kaijin, a traditional open-front shirt without buttons in which the two sides are folded in and attached with a belt.
The attire is adorned with sea and mountain images that covered imperial and official robes in dynastic times.
"But the sea and mountain patterns on the APEC garments are modified to reflect the close relations of the economies, which are connected by seas and mountains," Chu says.