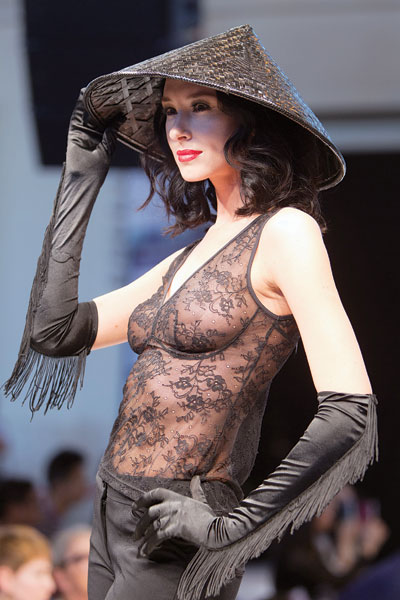 Shanghai Exhibition Center hosts the 10th Shanghai Mode Lingerie Exhibition. [Photo by Gao Erqiang/Shanghai Star]
But corsets remain the core pieces, the largest investment and Rayer's personal favorite. She currently owns about 150 pieces, all of good quality and in various colors. The most expensive piece is worth between five to six thousand euro, according to Rayer's estimation.
"Corsets in colors other than white and cream are extremely difficult to find," Rayer says, explaining that only women who were lovers to rich men would have colored corsets made for them (all of the corsets produced before 20th century were made either at home or by tailors). Families and descendants of those women generally considered the corsets "signs of an inglorious past" and were more than ready to throw them away.
As time goes on, old homes are renovated and treasures thrown away. Rayer says it is something of a "mission impossible," to find any more colored vintage corsets. Her collection hasn't had a new addition in the past five years.
Rayer's solution is to start replicating old-fashioned handmade corsets herself. In 2006, together with Patrice Gaulupeau, a French photographer, she founded Nuits de Satin and took on the job of designing corsets inspired from her own vintage collection.
"It takes less than 15 minutes to make a corset from the mass production line, and ten times longer for a handmade piece," said Rayer.
And she believes there is reason that the latter should not be replaced. Most of the corsets available nowadays are flexible because of the fabrics used, fitting bodies of any size, while for handmade pieces, they are exclusive for one body only, and that's the essence of a corset.
Rayer also noted that women's shapes have changed dramatically since the 1950s, judging from her collection. Waistlines have grown from slimmer than 60 cm to more than 70 cm on average nowadays. She blames the increase on women no longer wearing tailor-made corsets.