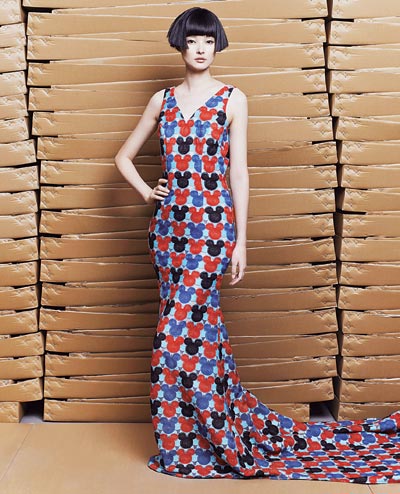 Li Hongyan's latest collection celebrates Disney's 90th anniversary. Provided to Shanghai Star
"Mickey Mouse is a global icon that we all grew up with. But because of that, its image has been quite stereotypical, and that's what I wanted to change," Li says. She believes that creativity and a willingness to take risks are the forces behind her brand and her collaboration with Disney.
The re-dressed mouse has been well received, at least judging from sales.
Li says five out of seven racks at the Helen Lee store on Fumin Road were "ransacked" within two months since the launch of the collection.
Li, a finance graduate who was inspired to become a fashion designer after seeing a friend plan a runway show and finding it "cool", was also selected by Walt Disney as one of the four judges for the "My Dream Mickey" future artists competition, targeting university students and kids, another project created for the company's 90th anniversary.
Hundreds of works, including paintings, video clips, and sculptures centered around characters such as Mickey Mouse, Donald Duck and Daisy Duck, have been submitted to the group.
The result is expected to be announced late in June. The final winner will be awarded a trip to the Walt Disney headquarters in California.
"What touches me most is their unpolluted and wild power of imagination, which 'veteran creative workers' like us always crave for," Li says of the competitors.