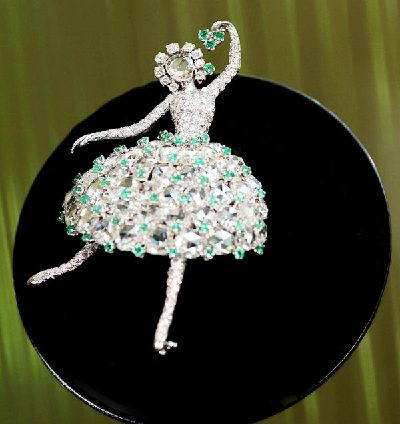 The Spanish Dancer brooch from 1941 is a signature piece from French label Van Cleef&Arpels. Provided to China Daily
Trained in classical ballet, Millepied has been dancing to Balanchine's pieces from a young age, including as the male principal in Rubies, the second part of Jewels.
"Jewels has been very important in the history of the house (Van Cleef & Arpels)," says Nicolas Bos, president and CEO of the French label.
"We were discussing having another production of Jewels. At some point, he suggested that instead of doing that, he could create a new ballet, a tribute to Jewels after 50 years, to look at the influence of Balanchine and Jewels on contemporary ballet. But it will be translated into a more contemporary approach than in 1967."
The house launched a long-term partnership with the L.A. Dance Project last year and supported the creation of Reflections. "It is about the color red, about the idea of energy and rhythm. The music was very fast," Bos says.