Xie puts the 'me' in mesmerising mode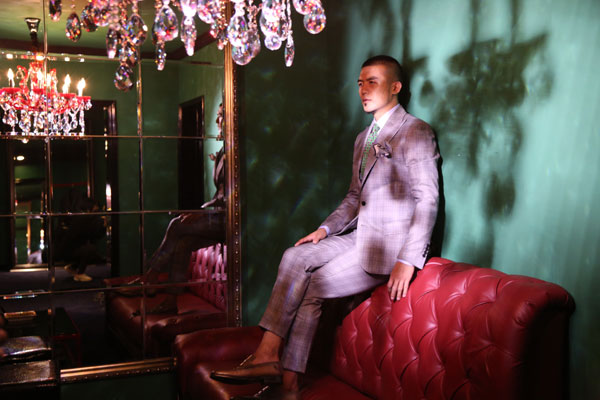 Photo Provided to China Daily
What took him away from embarking on a career as a lawyer to become a "brand manager" in 2010 was the "insufficient supply of decent, sexy suits to his wardrobe", despite owning 40 suits. And he believes it's a worry that is as annoying for men as for women.
But Xie's customers, mostly of his age, owning at least one supercar and living on anything but a monthly paid salary, seem to buy the story of this Hubei native who, along with his staff, cuts a well-groomed and dressed look from head-to-toe every day.
Business has been growing "aggressively" at both his Shanghai and Beijing stores, the latter of which was opened in 2012. And a third one, in Chengdu, Sichuan province, is on the way.
Tailor-making a suit costs a minimum of 15,000 yuan ($2,416). The price is growing year by year, because "supply cannot meet the demand" with his small team of skillful tailors, ferreted about and found from all over the Yangtze River Delta, the seedbed of the Chinese textile industry.
Money aside, it also takes at least three personal visits to his shop, which could extend for as long as one month, from choosing a fabric, a pattern, deciding if it's a three-piece or twin suit, to lots of fitting. Service is strictly conducted on a one-on-one basis and the signless door of his store barely opens to passersby or those coming without reservations.
"It's all about the details," as Xie puts it, "and at the end of the day, it's the details that outplays."
One of the latest details he plays up on the suit is the "Eye of Allen", the buttonhole that is shaped after his own eyes. The newly cultivated variety of the classic Milanese buttonhole features slightly raised curves and a naughty finish at the end, "just like my eyes", he explains.
"People who are paying for an expensive suit like this would want others to know that it's a suit that costs, essentially," says Xie, comparing his "Eye of Allen" to the likes of Chanel's double interlocking Cs, or Louis Vuitton's monogram.
"But I want to make it more subtle, more sophisticated, and more me," he says, joking again.