Luxury outlets lure Chinese at Lunar New Year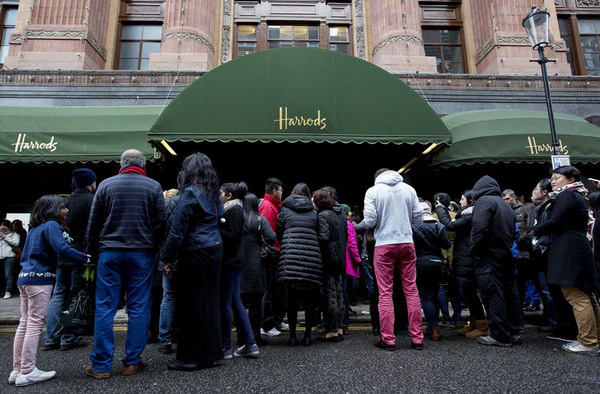 Shoppers queue for the start of the world famous Harrods department store Boxing Day sale in London, Dec 26, 2013. Western luxury stores and brands have conjured up a range of activities to cater to high-spending Chinese shoppers during the Lunar New Year holiday. [Photo / London News Pictures/REX / dfic.cn]
Western luxury stores and brands have conjured up a range of activities to cater to high-spending Chinese shoppers during the Lunar New Year holiday.
For the first time in its 306-year history, one of London's most famous and traditional stores, Fortnum & Mason on Tuesday, hosted a celebration for the Lunar New Year and the Year of the Horse.
Luxury department store Harrods decorated its renowned Brompton Road windows with horse-inspired displays in vibrant red and gold hues.
Harrods increased its exposure in China in September when it became the first British retailer to launch a WeChat social media account.
WeChat is the fastest-growing social media site in China. As China continues to be a power player in the luxury market, Harrods is also using its Sina Weibo blog to reach more Chinese customers.
Gieves & Hawkes, the 240-year-old London tailor, lured Chinese groups away from the bustle of Bond Street to its store at 1 Savile Row, which houses an extensive archive of royal and military regalia dating to the 18th century.
The store joined with carmaker Bentley to throw a big Chinese New Year party for 250 invited guests, who met Chinese Olympic equestrian Alex Hua Tian, Simon Baker, marketing director, told China Daily.
Famous European brands such as Armani, Burberry and Dior have set up branches in shopping malls of major Chinese cities. But for reasons including higher taxes in China and lower prices in Europe, Chinese shoppers prefer to do their buying abroad.
There's been remarkable growth in the numbers and spending power of Chinese tourists abroad.
In 2012, Chinese travelers became the world's biggest spenders, shelling out about $102 billion overseas, according to the United Nations World Tourism Organization.
There will be an estimated 100 million Chinese traveling abroad annually by the end of 2015, the organization estimated.
In Paris, French department store chain Le Printemps has recently opened a new outlet at the Louvre, one of the world's most visited museums. The 2,500 square meter store offers brands including Armani, Chanel, Dior, Hermes and Prada, which are expected to attract some of the 10 million visitors who flock to the Louvre each year.
Related:
Foreign retailers learning how to click with Chinese fashionistas