Icon not always in vogue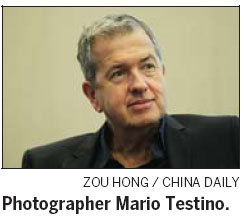 For an icon in the business of selling beauty, confidence and glamour, Mario Testino is surprisingly honest about his own insecurities.
At a recent Beijing forum organized by Vogue China, the Peruvian fashion photographer talked about his shortlived early success, which stemmed from a lack of confidence in his cultural identity. As a London transplant in the early 1980s, Testino said he imitated British photography trends - which got him noticed in the local fashion industry - but hindered the development of his own style.
By the late '80s, he could no longer get work and considered quitting photography altogether.
"People didn't want me anymore," the 59-year-old told a packed auditorium at the Beijing Institute of Fashion Technology. "I was sort of put aside, and people would see me and stop saying hello to me."
Things turned around when Testino decided, after speaking with a friend, to stop emulating foreign photographers and let his distinctive South American background influence his work.
Since then, he has become one of the most sought-after photographers of supermodels, Hollywood stars and European royalty. His pictures have appeared in ad campaigns, national museums and on magazine covers worldwide.
For more Fashion Dialogues, click here