Kun Opera interprets classic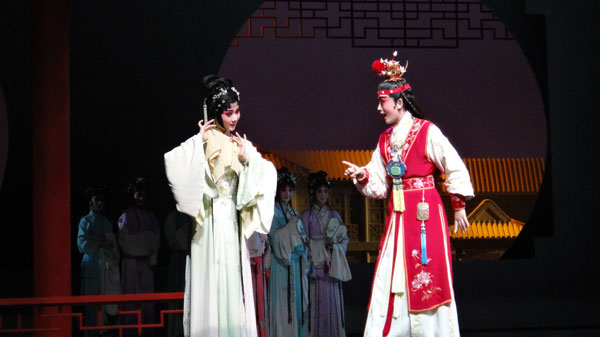 A scene from Kun opera "Dream of the Red Chamber".[Photo by Hu Zhe/chinadaily.com.cn]
One of China's four great classic novels "Dream of the Red Chamber" was adapted to Kun opera and staged on October 14 in Jinan, Shandong province during the 10th China Art Festival.
The novel, which was written by Cao Xueqin during the Qing Dynasty, is regarded as a masterpiece of Chinese literature and has even been hailed as the pinnacle of Chinese fiction. The novel is not only acclaimed for its mesmerizing plotline but also for its depiction of Chinese culture, which offers great insight to the social and cultural landscape of the time. Cultural elements like etiquette, cuisine, tea culture, traditional Chinese medicine, opera, painting, music, poetry, Taoism and Buddhism are extensively covered in the book and it is regarded by many as a Chinese culture encyclopedia.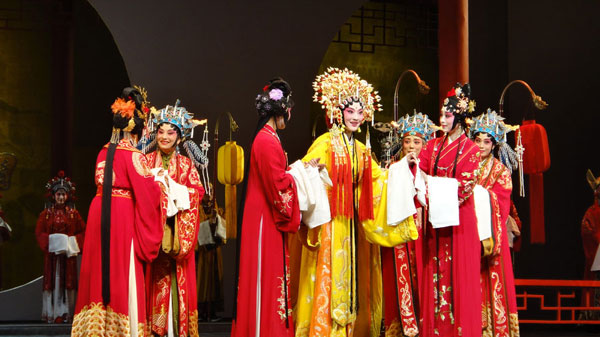 A scene from Kun opera "Dream of the Red Chamber".[Photo by Hu Zhe/chinadaily.com.cn]
Of the novel's many adaptations, its Kun opera interpretation could be the most eye-catching one as two Chinese classics are combined. Kun opera was developed in the 14th century during the Ming Dynasty and is one of the oldest forms of Chinese opera. It entered its heyday in the 16th century and has influenced many Chinese theater forms, including Peking opera. In 2001, Kun opera was listed as the Masterpiece of the Oral and Intangible Heritage of Humanity by UNESCO.
The 10th China Art Festival opened on October 11th in Jinan, capital of Shandong province. The 16-day festival presents quality art creations from all parts of China.