Art festival brings culture to the public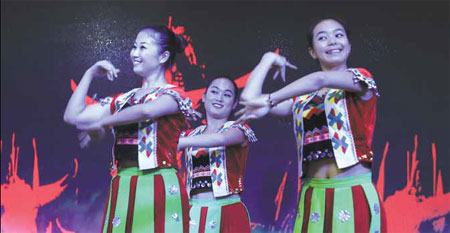 Women perform a traditional dance during the 10th China Art Festival. Photos by Ju Chuanjiang / China Daily
For Li Zhichen, a Jinan local in his 30s, the opening ceremony of the 10th China Art Festival in Shandong province exceeded expectations.
"I thought it would last at least one and a half hours, but it was only some 15 minutes," Li said.
The opening ceremony was followed by a traditional Chinese local opera named People's Secretary, one of the 87 shows (including operas, dances, musical dramas, plays, and puppet) that are expected to be staged during the art festival.
Those shows will also compete for the Wenhua Award, the top arts award granted to professional performers by China's ministry of culture.
"The show was so touching that I was not able to hold back tears. It made the opening ceremony very impressive," Li said.
The ongoing art festival, which closes on Oct 26, features 600 organizations from China and abroad.
It includes some 2,000 performances, such as symphony orchestras, dances, musicals, operas and ballets.
Some 350 of them will compete for the Qunxing Award, granted to amateur artists by China's ministry of culture.
A total of 150 art exhibitions will be held during the festival at which spectators can view renowned works by Leonardo da Vinci as well as European and American painters.
Held every two or three years since 1987, the China Art Festival has developed into the most comprehensive high-end art event in China, according to its organizing committee.
"The festival has become a grand gathering that allows artists to display China's spirit and strength, which has contributed to the prosperity of the nation's traditional culture over the past 26 years," President Xi Jinping was quoted as saying in a letter at the opening ceremony.
Xi hopes the festival will be a "carnival of arts and a festival for all".
Cai Wu, minister of culture, said the festival combines traditional and modern arts. It also combines Eastern and Western traditions.
"When a country prospers, arts will blossom," Cai said.
Guo Shuqing, governor of Shandong, said at the opening ceremony that the province will spare no efforts to stage a fantastic art gala.