Capturing a continent
Chinese amateur photographers are training their lenses on the wonder and beauty of Africa, shattering stereotypes of war and poverty to show the rich diversity of the continent. Deng Zhangyu reports.
A boxing champion, a pride of lions and a group of school children are just some of the subjects whose lives have been documented by a group of amateur Chinese photographers with a passion for Africa. Determined to portray the diverse reality of Africa, a group of Chinese who have made the continent their home are recording life there with their cameras.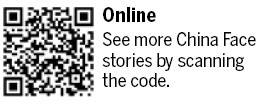 An ambitious boxing champion from the biggest slum in Nairobi, talented artists in the Go Down art zone in Kenya, and people making dhows in Zanzibar, Tanzania, are among the stories captured on camera by these amateur photographers who work for Chinese companies in Africa.
The group, called HSH, was established in 2012 by several Chinese to share photographs of the continent. It's name stands for heishehui, which literally means a group taking photographs in Africa.
"We don't want to just take photos of nature and animals like most tourists do," says Zi Ran, one of the group's founders.
"We live and work in Africa, so we have more time and energy to get to know the people, the history and the culture here. That's what we want to show to the world."
The group's membership has risen from four people a year ago to 83 today. Most are engineers or project managers working across the continent. Although they spread across vast areas, they share a passion for photographing Africa.
Zi says many Chinese people accept incorrect stereotypes of Africa because they know very little about the continent, and think of it as being hot and poor.
"Through our photos, people will find Africa is the same as China," he says. "The temperature in Nairobi is comfortable all year round. It has rich guys and poor guys. Young people have the same dreams as those in big cities in China."
For Chinese version, here
For more China Face,
here