Rebirth of grassroots opera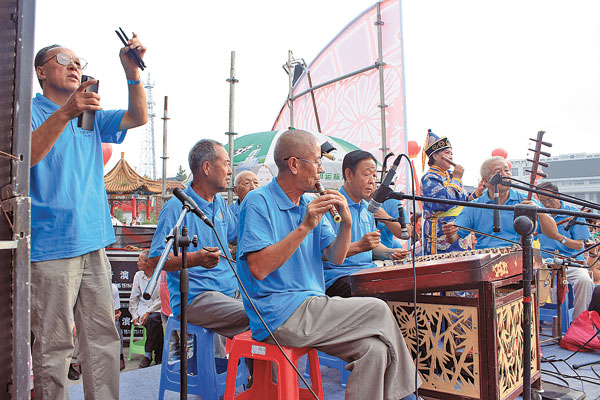 An amateur errentai band performs during the fourth national errentai competition. Photos by Wang Kaihao / China Daily
A little known style of opera developed in the late 19th century is enjoying a revival in the Inner Mongolia autonomous region, as older people relive their youth and the younger generation begins to learn the traditional skills. Wang Kaihao and Yang Fang report in Hohhot.
It is an astonishing sight. Thousands of people have brought their own wooden benches and gathered in a small square in Hohhot's Tumd Left Banner, hours before the show is scheduled to begin, to ensure they have the best position to view the errentai performance, an opera variety little known in most parts of the country.
Most spectators are over 50, but it is not difficult to spot young faces in the crowd. The eight-day fourth national errentai competition starting from Aug 18, attracted 6,000 participants, including professionals and amateurs.
"This opera was an everyday scene in our childhood," says Liu Guoxian, 63, a local woman who leads 10-odd people from her community amateur troupe to take part in the contest. "But we did not sing it until five years ago when we had more spare time after retirement and found there were fewer and fewer errentai performances in our streets. Our three rehearsals a week finally paid off."
Her team reached the group finals thanks to the audience's earsplitting cheering.
"The extraordinary popularity of the event was beyond our expectation, and the shows lasted until midnight," says an emotional Zhang Defeng, Hohhot's Errentai Association's deputy head, who launched the triennial competition in 2003. "Errentai is close to grassroots, but it is on the verge of disappearance.
"People always organized errentai for big ceremonies, weddings and funerals in old times," says Zhang, who runs a countryside resort. He is a big fan of the opera. "However, modern lifestyle has eroded these customs, which has encouraged me to do something to preserve its memory."