Christie's figures reveal active Asia participation
Christie's has posted a strong performance in the first half of this year, realizing total sales of £2.4 billion ($3.68 billion), a 9 percent increase on the same period last year.
The results are supported by expanding interests in art and acquiring art around the world, which continue to attract collectors to auction rooms. Christie's said its bidders during the first six months came from 128 countries and 10 percent of them were new buyers.
More than anything, the period has witnessed active participation from both established and new Asian buyers, who registered a 15 percent increase in bidding while accounting for nearly a quarter of all sales registrations.
Christie's major global sales sites continue to experience a strong demand for art from Chinese collectors, whose numbers in bidding increased by 32 percent in Hong Kong and 21 percent in London.
Christie's online services have also been well received among Chinese collectors. In the first six months of this year, it hosted 11 online exclusive sales and is now offering the first of two online only auctions of Chinese art throughout July.
Also, its real-time online bidding platform has attracted a great number of Chinese buyers, whose numbers jumped to 19 percent compared to the same period of last year.
The first foreign auction house to operate independently on the Chinese mainland, Christie's will hold its debut auction in Shanghai in September. It will also host an inaugural auction in Mumbai in December, making it the only international auction house to conduct sales in India.
"The hallmark of Christie's strategy is to build the capability to serve both new and existing clients wherever they are, from auction to private sales to online," says Christie's CEO Steven Murphy.
"We are building on our continuing leadership in auctions as we expand into China and India, as well as on the Internet, and we continue to connect with new collectors who hold an already-established desire for art."
Here are the top lots for Christie's in the first half of the year.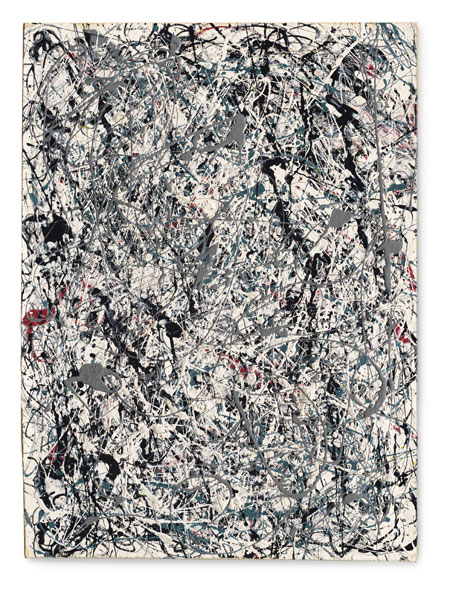 $58,363,750, Jackson Pollock, Number 19, Painted in 1948. Photo provided by Christie's Image Ltd.