Slovak sax quartet makes China debut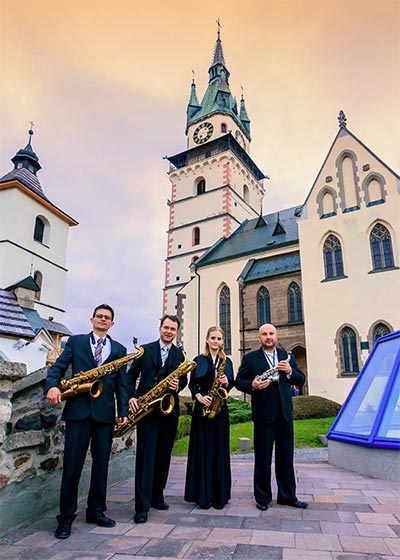 Saxophone Syncopators [Photo provided to China Daily]
Slovak saxophone quartet Saxophone Syncopators made their debut show in China by performing at the capital's Minzu Theater on Dec 1.
With a repertoire including Mozart's The Magic Flute Overture, The Marriage of Figaro Overture and French composer Jean Françaix's Suite For Saxophone Quartet, the band concluded their performance with a new piece based on popular Chinese folk song Jasmine Flowers.
The quartet consists of alto- and C-melody saxophonist Pavol Hoďa, alto-saxophonist Frederika Babuliakova, tenor saxophonist Jan Gasparek and baritone saxophonist Ladislav Fanzowitz. The four musicians met four years ago when Fanzowitz had the idea of starting the quartet.
Fanzowitz, who is also a classically trained pianist, graduated from the Bratislava State Conservatory and finished his doctoral degree in 2010. He picked up the saxophone about seven years ago. Drawn to the sound of the instrument, he formed the quartet to "perform the authentic musical style of ragtime in arrangements for four saxophones".
"We play the oldest ragtime and hot jazz from 1912 to 1920 in the original arrangements for four saxophones following the footsteps of the saxophone ensembles from this period, such as the Six Brown Brothers, Joe Thomas Saxotette, and the Hollis Saxophone Quintet," Fanzowitz says. "To achieve the most authentic and accurate sound, we use original period instruments from the 1920s."
During the concert, music from the quartet was integrated with the paintings by the late Chinese artist Hu Hong, whose colorful ink paintings were projected on a screen to form the backdrop for the performance.
The show's organizer Qiu Xingying said the idea of combining the music performance with Hu's paintings was to pay homage to the artist, who died from a heart attack early this year aged 66.
This April, Hungarian composer and violinist Zoltan Szekely performed in Beijing, who also played using by paintings by Hu as a backdrop.