Book reveals humble past of MIT postdoctoral fellow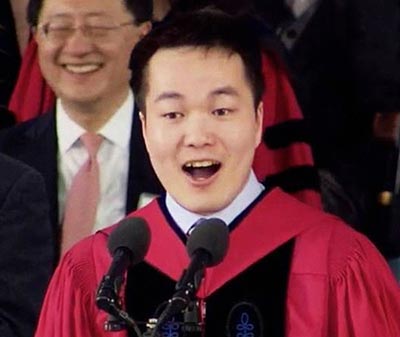 He Jiang, a Massachusetts Institute of Technology postdoctoral fellow. [Photo provided to China Daily]
When He Jiang started to tell one of his Harvard professors about growing up in rural China, the professor suggested he write down his story. He, the first Chinese to deliver a Harvard University commencement address, has now published that memoir.
Written in Chinese, the book is titled Zouchu Zijide Tiankong (Walking Out a Way of My Own) and runs to 200,000 characters. It records the different aspects of rural life in China at the end of 20th century. The book's English version will be published in the United States shortly.
What inspired He to write the book were his occasional chats with noted historian Niall Ferguson, a professor at Harvard, about five years ago.
After listening to a lecture by Ferguson, He wanted to share his thoughts on the rise of China's economy and the changes in Chinese society. He told Ferguson that he was born in a traditional village in China, later relocated to town for middle school, and then went to college in Hefei, the capital of Anhui province, before heading to Harvard in Cambridge, Massachusetts.
Ferguson said He's unique experiences were like "a miniature version of the Industrial Revolution" .
With that support, He began to collect stories about the village he grew up in from his early memories.
"When stitching them together, a panorama of rural life will unfold," He says.
"This is a story of migration and generosity, of the humanism, which makes life socially valid, and it is a tale of how a family produced a remarkable son whose efforts went on to make effective his vision of scientific truth," Kevin McGrath, professor of American poetry at Harvard University, writes in the book's foreword.
He, now a 29-year-old postdoctoral fellow at the Massachusetts Institute of Technology, grew up in a small village with limited educational opportunities.
He graduated in 2009 from the University of Science and Technology of China in Hefei-one of China's top universities-with a bachelor's degree, and was accepted into Harvard's PhD program on a full scholarship the same year.
In January, He made the 2017 Forbes "30 under 30" list of promising entrepreneurs, innovators and "game-changers" in the healthcare category.
Forbes described He "as a farmer in a village with no cars, electricity, or running water. His ramshackle school once collapsed in a rainstorm. As a postdoc at Harvard, he used a new technology called single-virus tracking, super-resolution imaging to understand more about how influenza infects cells, and discovered human genes with strong anti-viral effects. He's now applying the same techniques to neurons and white blood cells. His other passion: getting science and medicine to places they aren't reaching, like his own village, where his mother once treated his spider bite with fire."
He says the book contains a lot of meaning.