Ancient tomb discovered at construction site in N China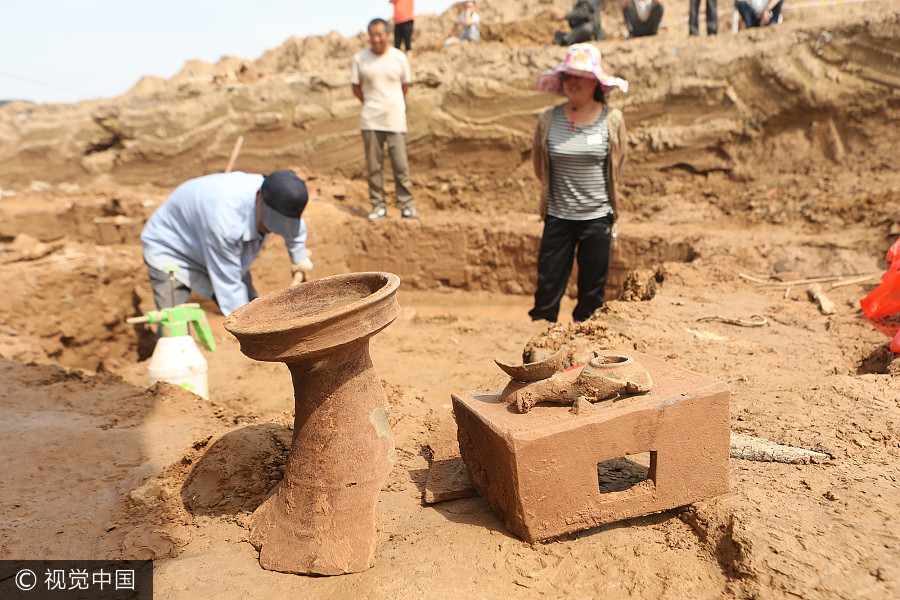 Archaeologists work during the excavation of an ancient tomb in the Chuaigutuan village of Yangyuan county, North China's Hebei province, on June 11. [Photo/VCG]
The excavation of an ancient tomb is currently underway at a construction site in the Chuaigutuan village of Yangyuan county, North China's Hebei province on June 11.
The tomb was first discovered at the end of May, with a collapsed chamber and was flooded due to an underground water leakage.
Burial objects such as copper coins, a bronze mirror and pottery, as well as five skeletons, have been unearthed, according to the local administration of cultural heritage.
Based on the objects unearthed, archaeologists were able to conclude the tomb could trace back to the Eastern Han Dynasty (AD 25-220).
The local administration of cultural heritage will further carry out the excavation of ancient tomb to uncover the owner's identity.
Representatives of the local administration of cultural heritage also said the tomb could potentially provide clues for the study of social and economic statues, and the burial customs of the Eastern Han Dynasty in Yangyuan area.