Chinese seed sprouts in US culture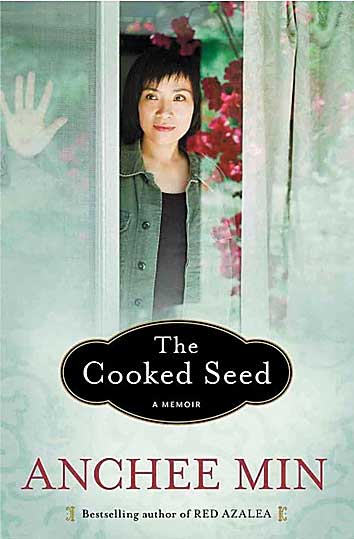 The Cooked Seed is Anchee Min's new memoir about her journey to the United States, and her life and her writing. Provided to China Daily
When Anchee Min came to the United States in 1984, she spoke little English. She had barely slipped through on a student visa granted by an American consul impressed with her "crazy determination" - a decidedly American trait, she recalls in her new memoir The Cooked Seed.
In her courses at the Art Institute of Chicago, "I dragged the composition topics into my own territory, against the backdrop of Chinese culture and history," she writes, "where I could make comparisons and comment intelligently. I wrote slowly with my baby English, but it worked."
Later, she found success with a similar formula in Red Azalea, her celebrated 2006 memoir in which she detailed her "cultural revolution" (1966-76) experience as an actress with Madame Mao's Shanghai Film Studio and her love affair with a woman, among other events.
The Cooked Seed picks up where Red Azalea left off, with Min's journey to the US and her subsequent struggles with marriage, friendship, money and her eventual career as a writer. The title of the new book refers to the Chinese name for a seed that has no chance of sprouting.
Although she had always been an avid reader of Chinese literature, Min never considered writing in Chinese, she says.
"In Chinese, I wasn't a newborn, but in English I was a newborn calf who wasn't afraid of any tiger," she says. "I realized that what I had to offer in America was my knowledge of China, and the voice I could give to my experiences."
She found her voice when she began combining the poetic influences of Chinese classical literature with the directness of Western authors like Hemingway and Anais Nin, she says.
Min's detailed accounts of the various conflicts she has faced in personal relationships, whether romantic or platonic, are often less than flattering. She is disarmingly honest about her own flaws.
But she firmly believes that Western readers only find authenticity when an author's flaws are on display. Criticism is not only expected in America, but often encouraged, she says.
She notes that if her book were to be published in China, Chinese readers might view her stance as anti-American, for her descriptions of life as a poor immigrant.
"Chinese have a tendency to present a picture that's either 100 percent positive, or to present nothing at all," she says. "They're often uncomfortable with demonstrating any weakness. But what Chinese need to learn is that showing some flaws actually makes people see you as stronger in the big picture."
Min will continue to write about China, because she will always feel connected to her homeland, she says.
"I was born in China but I discovered myself in America, and what I could do for China," she says.
"I've realized as time has gone by that China is not mine to miss because it has never once left my thoughts."